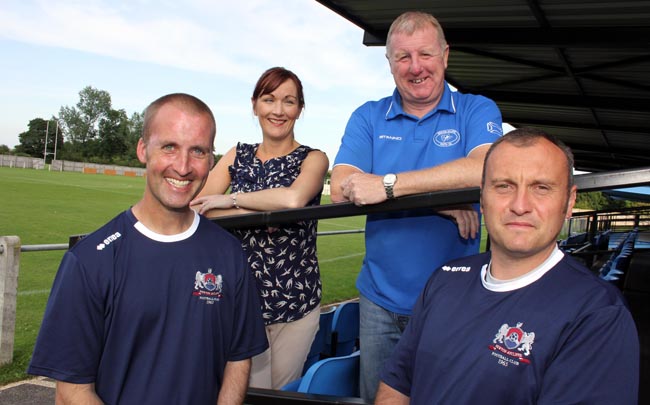 Newton Aycliffe FC have announced details of a community scheme that will see more formal links developed with both Newton Aycliffe Youth FC and Newton Aycliffe Juniors FC.
With immediate effect, every junior member of both clubs will become an affiliate of Newton Aycliffe FC.
This will entitle all juniors to free entry to all home games at Moore Lane Park, as well as half price entry for an accompanying adult.
It will also see Aycliffe feature the logos of both junior clubs on their matchday shirts.
Aycliffe FC General Manager Dan Lewis, pictured above (left) with Manager Dan Mellanby, Aycliffe Youth FC Secretary Berni Borsberry and Michelle Acuna Ocana from Aycliffe Juniors, said: "We're delighted to announce the details of our Junior Affiliates scheme.
"We are working very hard to place the football club at the centre of the local community.
"We want the people of the town to feel part of what we are trying to do, and we feel the best place to start this is with the local footballers and their families.
"Last season we launched some trial schemes such as our matchday experiences, our players have presented awards for the junior players, and we see this as a natural progression to welcome as many of these young footballers as possible to the ground to see top level local football on a regular basis, and hopefully a few of them will progress from the junior teams to represent the Towns team in years to come."
Aycliffe Youth Secretary Berni Borsberry said: "We're delighted to be part of this initiative by our senior team, which will encourage the growth in support from the young people of the town.
"The links that are now being forged with the grass roots teams will hopefully benefit NAFC in the coming years, as some of our young players go on to play for NAFC in the Northern League."
Aycliffe Juniors Chairman Nige Slatcher added: "We're very keen to see NAFC become more successful and schemes such as this are a great way of demonstrating a willingness to continue and grow the development links that are already in place.
"I am sure our junior membership will be very excited and keen to participate as an affiliate member of NAFC and attend as many home games as possible which is great for them and NAFC as this will hopefully foster the next generation of supporters."
Aycliffe's season is fast approaching, with the first game of the season on Saturday 9th August, when Aycliffe welcome last season's FA Vase finalists West Auckland to Moore Lane Park.
It's hoped the game will see a whole load of new supporters through the gates.