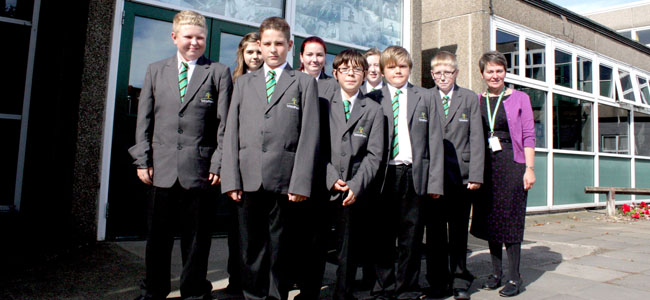 September 4th 2012 was a day that many Aycliffe youngsters will never forget – their first day at secondary school.
Some arrived as early as 8am, too excited to wait any longer. Many admitted to having got up especially early to make sure that they were ready.
All looked wonderful in smart new uniforms with shiny shoes and brand new school bags.
John Clough from Stephenson Way primary said: "I am very excited at being at Woodham. I can't wait to make new friends, meet my new teacher and have lots of fun."
Hannah Bussey from Sugar Hill primary said said: "My mum was taking photos of me this morning as I was so smart in my new uniform.  I am excited about doing proper maths in particular."
Broden Forster from Vane Road primary added: "I am excited about being at an academy and all the sports I am going to do."
Tracy Tait, Head of Year 7/primary transition, said: "It's wonderful to see the first students of Woodham Academy eager to begin their five year journey with us.  It is a privilege to be their Head of Year."