An ambitious young business that started out as an equine laundry firm is galloping towards growth after setting out ambitious plans.
C&A Embroidery and Print, based on Aycliffe Business Park, has invested in new machinery as it ramps up production.
Owner Laura Flood took the business over from her parents after completing a business degree two years ago.
C&A started out as an equine laundry and repair business, launched by Laura's mum and dad, Chris and Andrea, who washed and embroidered horse rugs for clients.
Laura completed a two-year IT apprenticeship while working part-time for her parents before studying a leadership and business management degree, qualifying with first class honours in 2018, while she continued to run the business.
Now she's flying solo, and took on her first machine operator a year ago. She has also recently invested in three additional embroidery machines and a new print facility to increase capacity.
"We now have more capacity and we're ready to expand," says Laura, originally from Sedgefield who now lives in Staindrop.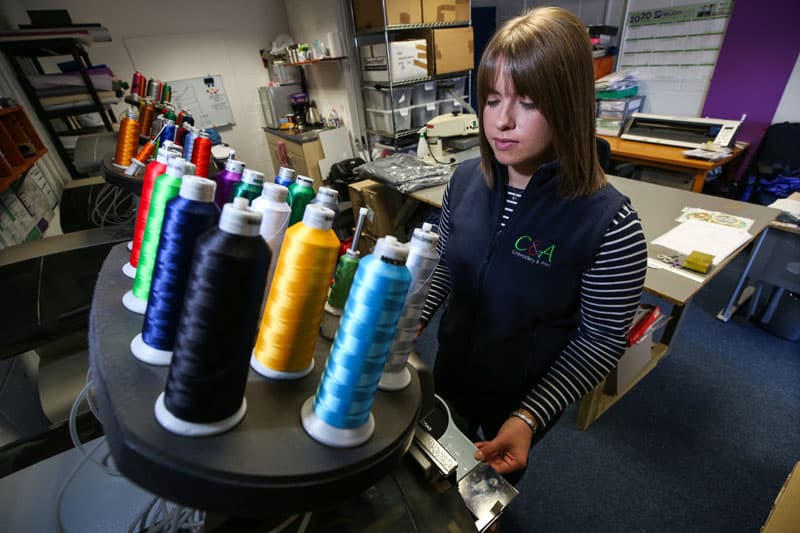 "I chose Aycliffe because we saw it as a great opportunity to work with such a diverse range of businesses. We work with clients from all kinds of sectors – we love what we do, and we're hoping to work with more Aycliffe businesses as we continue our growth."
C&A, based at the Flexspace units off Durham Way South, can accommodate small, one-off requests as well as large bulk orders for clients.
They currently work with a number of firms on Aycliffe Business Park, including ALM Products, Collins Seafood, Haystacks Nursery, South West Durham Training, Optimum Skills and Beaumont Landscapes, and has also completed large orders for a major health care provider.
"We also provide leisurewear for Darlington Football Club, workwear for Nicholson's Hi-AB and PDQ Engineering and corporate wear for Stuart Hall Accountants, to name but a few," adds Laura.
C&A have provided the entire range of clothing for Sedgefield Rugby Club including on the pitch items such as match shirts, shorts, socks and tracksuits to everything off the pitch including bespoke club blazers, woven ties and corporate shirts.
"We've also recently worked on 450 tunics for Perfect Care, based in Spennymoor, which demonstrates our ability to complete large orders and has been our biggest project to date," Laura says.
C&A provides an in-house embroidery and printing service as well as supplying a vast range of clothing such as workwear, corporate and hospitality and sports and leisure wear, all of which can be embroidered or printed.
Outlining her future plans, Laura adds: "We're ambitious and we have plans to take on another member of staff in the next 12 months.
"We're also aiming to expand our premises with more machinery so we can further increase our capacity as our orders grow.
"We're passionate about what we do and we think that shines through in the quality of our work and our customers' satisfaction.
"We're excited about the next chapter for the business."
C&A Embroidery and Print Unit 13, Evans Business Centre, Durham Way South, Aycliffe Business Park DL5 6ZF
T: 07740 031655/ 01740 657831
E: [email protected]
W: caembroidery.co.uk