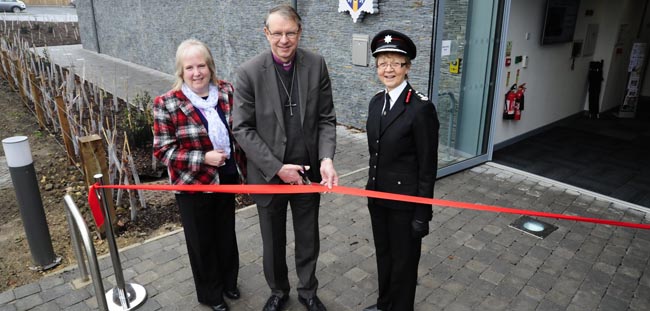 The Bishop of Durham officially opened a new station for County Durham and Darlington Fire and Rescue Service.
Firefighters, officers and guests gathered at Durham Community Fire Station in Sniperley to watch The Rt Revd Paul Butler, Bishop of Durham, cut the ribbon and talked about the building's importance in the local area.
During the visit the Bishop and all other guests were invited to tour the purpose-built station, which includes state-of-the-art training facilities as well as space and meeting rooms for use by community groups.
There are three fire appliances (two whole-time and one retained duty system), a target targeted response vehicle (TRV or smaller fire appliance), an aerial ladder platform (ALP) and an environmental protection unit (EPU) based at the new station on Lanchester Road, Sniperley.
The station became operationally active on 11 February 2015, just ten months after the ground work for the build began on 1 April 2014. This new building, located just off the A691 with good links to the A1, is strategically situated to access main arterial roads heading to all areas of County Durham and Darlington.
Susan Johnson, Chief Executive of County Durham and Darlington Fire and Rescue Service said: "We are pleased that the Bishop of Durham and so many of our partners were able to join us today to officially open this impressive new community fire station.
"This building is now well positioned to serve those people living and working in Durham as well as visitors to our region for many years to come.
"These fantastic facilities will allow us to continue to provide an efficient and effective response to incidents, meet the training needs of our firefighters and establish a useful community hub, which local people and groups can use for meetings and events."
Councillor Michele Hodgson, Chair of County Durham and Darlington Fire Authority, said: "The completion of this new station is just one part of the Fire Authority's estates improvement programme. Despite the challenges posed by budget reductions, prudent financial planning has allowed the Service to invest in modernising fire stations, training facilities and a move to a fit for purpose headquarters building."
The new station replaces the fire station on Finchale Road, Framwellgate Moor, which served the community for 60 years and has now been sold.
CDDFRS had long been looking to replace the outdated Framwellgate Moor site, which opened in 1957 and had become very expensive to run and maintain due to its age.
Following the official opening ceremony at the new station, guests, including local councillors, representatives from partner agencies and contractors Bowmer Kirkland, viewed firefighters demonstrating some of the work of the Service, The Young Firefighters Association running out hoses and Scrappy the fire investigation dog carrying out an exercise.