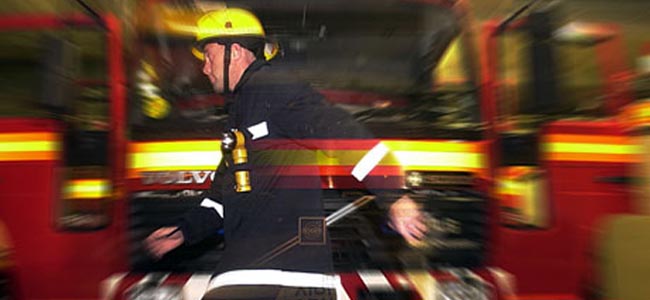 County Durham and Darlington Fire and Rescue Service are launching their Christmas safety campaign and urging everyone to enjoy a safe and happy Christmas.
Andrew Allison, the Service's Senior Community Safety Officer, said: "We want everyone to remember Christmas for the right reasons so we urge everyone to follow our safety advice and also check that relatives, neighbours and friends are safe too – if you care, share!
"There are lots of reasons to take extra care at Christmas. We tend to use Christmas tree lights that have not been out of the box for a year, candles are used more for decoration, there is lots of extra fuel to burn in the form of wrapping paper, decorations and cards and many people have an alcoholic drink who would not normally, especially when cooking!
"If you take sensible measures and follow the safety guidance on our website then you should enjoy a safe and happy Christmas.
"If an accident does happen then our message is simple – Working Smoke Alarms Save Lives."
Top tips for Christmas safety:
● Check your Christmas tree lights carry the British Safety Standard sign.
● Test the batteries in your smoke alarm every week. Never remove them.
● Most fires start in the kitchen. Avoid leaving a cooker unattended and remember – cooking and drinking alcohol don't mix!
● Make sure your family and visitors know how to escape in an emergency.
● Make sure cigarettes are put out properly.
● Never place candles near your Christmas tree or materials that can catch light easily.
● Decorations can burn easily – so don't attach them to lights or heaters.
● Keep candles, lighters and matches out of children's reach.
● Never leave burning candles unattended.
● Never overload electrical sockets.
● Always switch Christmas lights off and unplug them before you go to bed.
● Take care around open fireplaces as clothes may catch fire.
● Take time to check on elderly relatives and neighbours this Christmas as they are at greater risk from fire.
Andrew added: "We want our safety messages to reach everyone so listen out for them on Real Radio, watch out for our interactive posters in schools and shops and visit our website to access our community safety advent calendar.  Scanning the codes on the posters with a smartphone or picking a present on the advent calendar will take you to a video, or a website, or a safety tip."
Anyone requiring a Free Home Fire Safety Check with Free smoke alarms should contact the Service on 0191 324222.
The advent safety calendar and other safety advice can be found at www.ddfire.gov.uk
County Durham and Darlington Fire and Rescue Service wish everyone a safe and happy Christmas.