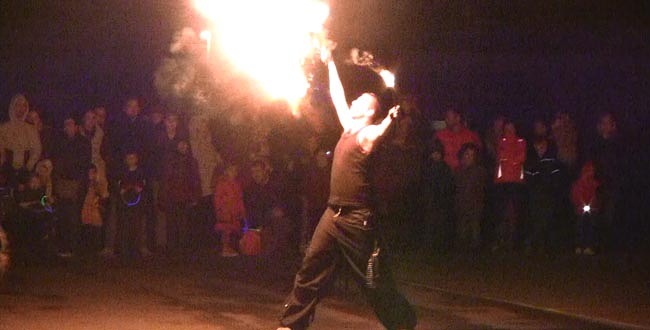 By Martin Walker
More than 500 people turned out to see an impressive lumiere festival at Vane Road School on Thursday night.
Children from all year groups have worked on lighting projects over the last few weeks, culminating with a flamboyant showcase of colours on a chilly winter's evening.
The night was capped off by a superb fire-breathing performance by Sunderland-based performer Dan Stones.
In a special Video Feature, the school's head teacher Kieran Pavey told Aycliffe Today: "It was an incredible turn-out!
"We bought 300 glowsticks as an estimated number of people who'd be here but I think we've doubled that number.
"It's great to see all the community coming out, supporting their children and showing an interest in their school life."
He added: "The fire-breathing performance was absolutely fantastic, and an end to a brilliant evening showcasing the children's talents.
"They've worked as a whole school, putting a project together looking at light, different medium of light and how they can enhance their presentations using lighting effects."
Vane Road hired 26-year-old Dan – a dance teacher during the day and flame-eater at night – from an entertainment agency.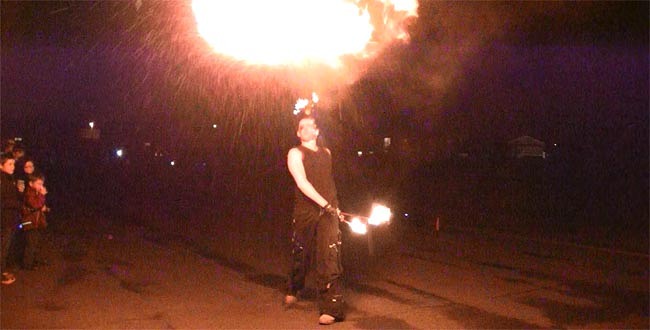 "Kids are the best crowd!" he told us. "Grown-ups really like it, but the kids are fascinated by it.
"I started off when I was 16 mainly dancing, and my current bosses saw me dancing and asked to try this.
"Being 16, I'd try everything and I started fire breathing, and I absolutely love it!"
Go to our Video Vault to see Dan in action
We'll have a report and pictures from Vane Road's lumiere in the next issue of our community magazine, AT Monthly, due out in a couple of weeks.
B
Wikipedia: B (named bee) is the second letter in the ISO basic Latin alphabet. →