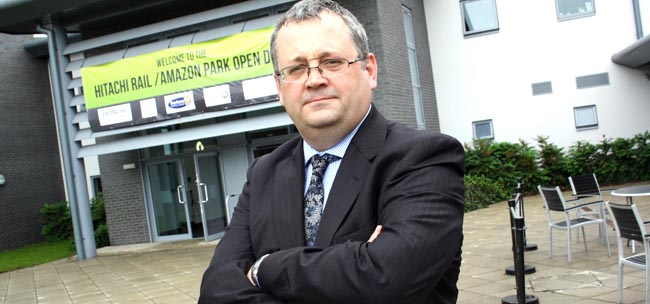 By Martin Walker
Hitachi Rail Europe say they're delighted that Finley Structures have secured the contract to build their factory – and are confident the family-run firm can deliver.
Darlington firm Shepherd Construction, the main contractor for the project, has given Finley's the task of constructing the steel frame of the main factory on the 42,700sqm site at Aycliffe Business Park.
Finley's, based within a mile of Merchant Park, where Hitachi's new £82m facility will be built, has also been handed a secondary steelwork package in a huge contract involving a total of 2,000 tonnes of steel.
FINLEY STRUCTURES GET HITACHI CONTRACT
The factory, which will include a research and development centre, is expected to take about 20 months to complete, and will support more than 200 jobs in its construction.
It will then employ 730 people once open by the end of summer 2015, and it's estimated thousands more in the supply chain.
Darren Cumner (pictured), Manufacturing Plant Manager at Hitachi Rail Europe, said: "The appointment of Finley Structures for the steelworks contract is excellent news for the region.
"For Hitachi, it is most important that our rail vehicle manufacturing facility is built to the highest quality standards and we are delighted that with Finely Structures, a local company, has been able to answer these requirements and to secure the contract.
"From the day we decided on Newton Aycliffe as the home for our new train factory, we have time and again seen direct confirmation that companies in the region are more than capable of fulfilling our high quality and reliability standards."
In May last year (2013), Hitachi Rail Europe signed a deal with Newcastle-based developers Merchant Place Developments to construct and fit out the train-building factory, and then in November Shepherd Construction was revealed as the main contractor for the 20-month project during a high-profile ceremony attended by Business Secretary Vince Cable.
Geoff Hunton, of Merchant Place Developments, said: "We fully endorse the statement made by Hitachi and are delighted with the appointment of a local North East based company for the steelworks contract which has fully justified our belief in the North East when promoting the benefits of the Newton Aycliffe site.
"Well done to all concerned."
FINLEY'S DEAL 'WONDERFUL', SAYS MP