By Martin Walker
Newton Aycliffe construction company Finley Structures has been awarded a multi-million pound deal to help construct a £650m shopping development in Leeds.
The family firm, which has recently completed steelwork on Hitachi Rail Europe's train-building site for Shepherd Construction, was handed a 2,300-tonne job to construct a major part of Victoria Gate, in Leeds city centre.
Victoria Gate is an exciting addition to the vibrant shopping scene in Leeds, which will include the Victoria Gate arcade, currently being constructed by Finley Structures, which will include stores, restaurants, cafes and leisure space in an elegantly designed two-street arcade linking Victoria Quarter to the John Lewis store.
The development is expected to deliver up to 1,000 retail and hospitality jobs and 1,000 construction employment opportunities.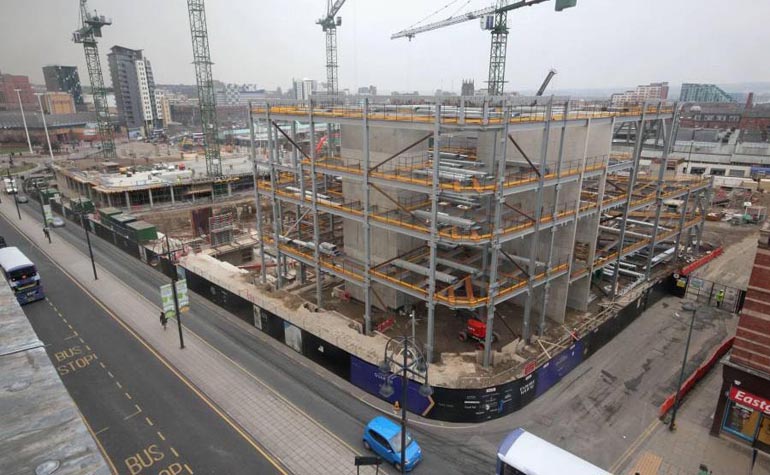 Finley Structures was awarded a 20-week contract from Sir Robert McAlpine's Manchester office, to fabricate and erect 2,300 tonnes of steel, after being recommended for the job by the firm's Newcastle office following the successful completion of Nissan's new car plant in Washington.
The work is being done on behalf of national retail developer Hammerson Property, which boasts a real estate portfolio of around £7.7billion, with investments in 22 major shopping centres and 22 retail parks, providing a total of 1.7million sq m of retail space.
Finley Structures operations manager Jim Graham said: "This is a very prestigious contract for us and we're delighted to be doing this work for Sir Robert McAlpine on behalf of Hammerson.
"Retail is fairly new to us, but is an area we've been looking to explore for some time now, and to get on to Hammerson's supply chain is a major coup for the company.
"It's a very high maintenance job. In retail there tends to be a lot of alterations and you have to react very quickly to change, which we've been doing very well to date and we're currently on programme.
"It's another indication of how far Finley Structures has come in the last three-to-four years, with large-scale projects like this now becoming run-of-the-mill stuff to us."
McAlpine has praised Finley Structures for its "exceptional" safety performance on the Victoria Gate contract.
The firm's North West regional manager Simon Trevor said: "Not only are Finley Structures the only company to have scored a KPI for Health and Safety and over 80% during the month of February, but they are the first and only to have achieved this in our region within the last 12 months.
"Our supply chain represents 80% of our business, therefore it is the collective effort which counts on trying o change cultures to effect positive outcomes, so I congratulate Finley Structures on their exceptional safety performance."
The Victoria Gate contract comes after Finley Structures, founded by John Finley in 2000, was given a 2,000-tonne contract to fabricate and erect the steel frame for Hitachi's factory on Aycliffe Business Park last year.
During a busy 2014, the family firm, which employs 60 full-time staff, also completed a 1,400-tonne project for Nissan, constructing the steel frame for the Japanese car manufacturer's new facility in Washington, as well as a 300-tonne contract for the National Biologics Centre in Darlington for contractors Interserve.
In addition, Finley Structures worked on Middlesbrough Council's state-of-the-art Sports Village, erecting 500 tonnes of steel for main contractor Willmott Dixon, while also completing a 500-tonne contract for Bam Construction at Teesside University as well as two 280-tonne projects for the Poniel Warehouses in South Lanarkshire, Scotland, for Muir Construction.
Finley Structures started on site at Leeds in February and expect to complete the structural steelwork in June.
Victoria Gate, formerly known as Eastgate Quarters and the Harewood and Eastgate Quarters, is a £650m development which is planned to open in late 2016.