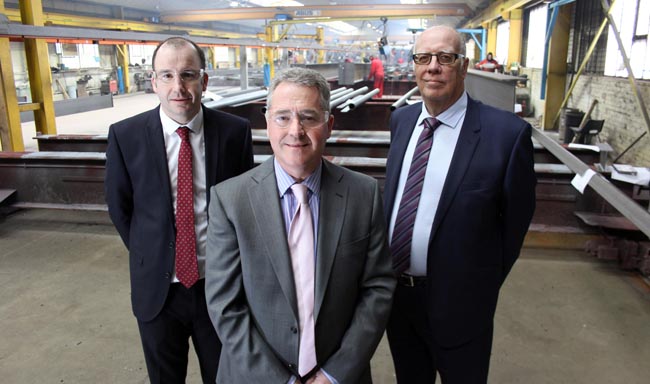 By Martin Walker
Family-run steel company Finley Structures has been awarded a multi-million pound deal to construct Hitachi Rail Europe's train-building factory.
Darlington firm Shepherd Construction, the main contractor for the project, has given Finley's the task of constructing the steel frame of the main factory on the 42,700sqm site at Aycliffe Business Park.
Finley's, based within a mile of Merchant Park, where Hitachi's new £82m facility will be built, has also been handed a secondary steelwork package in a huge contract involving a total of 2,000 tonnes of steel.
The factory, which will include a research and development centre, is expected to take about 20 months to complete, and will support more than 200 jobs in its construction.
It will then employ 730 people once open by the end of summer 2015, and it's estimated thousands more in the supply chain.
Neil Matthias, Shepherd's project manager for the Hitachi factory (pictured above, left), says the deal is another example of how the firm is committed to using local companies after appointing Rushyford-based Hall Construction to carry out the groundworks.
Mr Matthias said: "I am pleased to announce we have appointed Finley Structures for the design, manufacture and installation of the steel frame together with secondary steel elements within the building.
"This is great news for the project and for the scheme, and particular John Finley who has been close to the project for a number of years and has worked alongside Shepherd for a number of years within the industry.
"We know Finley Structures will give 100% commitment to the project and look forward to getting started."
Finley Structures, started by managing director John Finley in 2000, has completed a string of high-profile contracts in recent years.
The company has worked with Shepherd Construction on a 1,000-tonne project at Drax Power Station in Selby, North Yorkshire, and the 950-tonne National Renewable Energy Centre (NAREC) in Blyth, as well as a 500-tonne contract at Ercall Wood Technology College in Telford and a 400-tonne job at Daventry Academy, Northampton.
Mr Finley (pictured centre, with Geoff Hunton on the right) said: "It goes without saying we're proud and absolutely delighted to be given this contract.
"We have a long-standing relationship with Shepherd Construction and we've worked with them on a number of major contracts over the last few years, so we're looking forward to working on what is another flagship project.
"Hitachi Rail Europe and Merchant Place Developments have said from the very beginning that they will use local suppliers and contractors as much as possible, and clearly this deal means they're sticking to their word.
"I would especially like to thank Geoff Hunton from Merchant. Geoff can be credited largely for helping to bring Hitachi to Newton Aycliffe."
In May last year (2013), Hitachi Rail Europe signed a deal with Newcastle-based developers Merchant Place Developments to construct and fit out the train-building factory, and then in November Shepherd Construction was revealed as the main contractor for the 20-month project during a high-profile ceremony attended by Business Secretary Vince Cable.
Meanwhile, Finley Structures has appointed South Durham Draughting, based in South Church, Bishop Auckland, to carry out the detailing of the project.
'FINLEY'S CAN DELIVER' – HITACHI
FINLEY'S DEAL 'WONDERFUL', SAYS MP