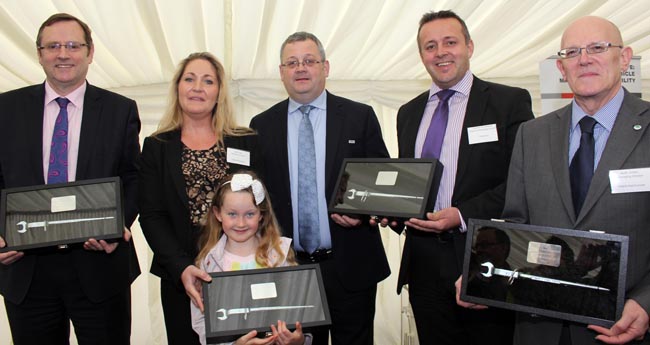 By Martin Walker
The Finley family which is constructing the steel for Newton Aycliffe's iconic train-building factory today presented key people with special mementos during a steel ceremony.
Aycliffe firm Finley Structures is currently working on erecting 2,000 tonnes of steel at Hitachi's monster £82m factory on Aycliffe Business Park.
The Japanese firm hosted a special steel ceremony on site on Thursday afternoon to celebrate a large bulk of the steel going up.
About a third of the 2,000 tonnes of steel is already changing the skyline at Merchant Park, but what can be seen today represents only a sixth of the overall site.
Finley Structures managing director John Finley watched on, a very proud man, as his daughter Julie addressed guests with a touching speech, before her daughter, seven-year-old Grace, presented commemorative podgers – specialist spanners used in the construction industry – to mark the occasion.
Grace presented the podgers on behalf of developers Merchant Place Developments to MP Phil Wilson, Hitachi Rail Europe's managing director Keith Jordan, Shepherd Construction's regional managing director Andrew Constantine and her Mum, Julie.
In a Video Interview with Aycliffe Today, Julie said: "This represents a lot of hard work from John and Val, my Mam and Dad.
"I remember years ago when I was a child, our Sunday afternoon drive always involved looking at various sites, looking at where his next job was going to be.
"We didn't appreciate it then, but this just makes it all worthwhile.
"It's huge for the area. There was a lot of empty factory space on Aycliffe Business Park, but now there's very, very little left.
"So it just shows how much potential this project can bring to the park."
In her speech, Julie said: "Finley Structures was established in 2000 by my father, John Finley.
"However, my mother Valerie also played a major part, and very rarely gets a mention. But, as they say, behind every good man, is a good woman.
"John's ambition was to build a company that would create sustainable employment, while delivering top quality products and service.
"The company has grown immeasurably over the years, slowly increasing the workforce, picking up bigger, high-profile contracts and increasing turnover year-on-year.
"To us, this project is more than just a contract. It's an historic one.
"It will bring train-building back to the birthplace of the railways. It will bring hundreds of jobs to the area and then thousands more in the supply chain.
"It will help to create prosperity and, for Aycliffe Business Park, it will raise the profile."
Click here to see our Video Interview with Julie.