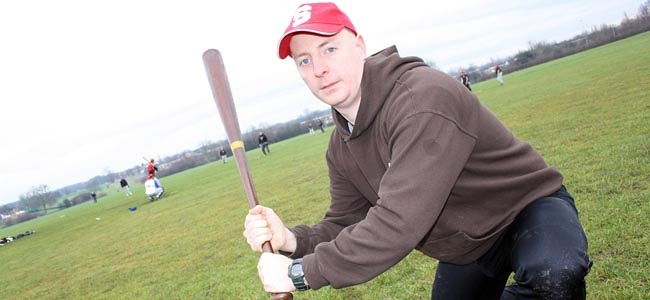 By Glen Robertson
One of the last places you would expect to find an organised game of baseball is Newton Aycliffe.
With basketball and American football already played on the town, you would think the quota of US sports had been filled. But Aycliffe is not only a home for the sport, but THE home for the sport in the entire North-East.
The Newton Aycliffe Spartans were formed by baseball-enthusiast John Johnston last year, after he was introduced to the sport by a friend of his. After getting hooked he looked for his nearest club so he could start playing competitively. He was told he'd have to travel to Bolton, in Lancashire.
Instead, Johnston decided to set about creating his own club, based at Horndale Field, opposite Greenfield College in Newton Aycliffe. In under a year, the club has played its opening game, been entered into its first-ever tournament and will start its inaugural season this calendar year – competing in the British Baseball Federation Northern League
Not bad, especially since each player has to pay for everything from equipment to transport, just so they can compete.
"We don't have any sponsor so we're having to pay for everything through subs," explains Johnston. "We have to pay for travel down to Leicester on three consecutive Sundays at the end of March, and get everyone the equipment to play.
"Our local derbies in the league are against the likes of Manchester, Liverpool and Bolton, but the players are willing to put subs in so we can pay for petrol. We're also looking to get fundraising events going on and hopefully get a mini-bus in the future."
The Spartans have approached the council and local firms to seek some financial support and are hoping to have all the necessary equipment in place to host their home league matches in the summer.
But nothing can dampen the enthusiasm of Johnston and the other players. While many of them are Newtonians, a couple travel great distances to take part. One – a Canadian – lives in Sheffield, while another couple are from Newcastle.
On Sunday, not even the blanket of snow could deter them from turning up and playing ball. Why do they enjoy it so much? Johnston believes it is because it is a sport that absolutely anyone can play.
He says: "We have 15 or 16 people who come to training sessions and we're not all fit and have six-packs! Anyone of any age can come and have a go. It's a sport anyone can play by just picking up a bat, and it's very enjoyable."
And the ultimate aim for the Spartans? To get North-East baseball back on the map.
"We did some research and the North-East used to be a hotbed for the sport," reveals Johnston.
"Middlesbrough had a team and were very successful. There's a history section on our website all about it. We want to go out there and bring the sport back to the region."
It looks like baseball could be about to join American football and basketball as one of Aycliffe's favourite sports.
Got a sport story for us? Email: [email protected]