Young entrepreneur Lisa Fleming tells Martin Walker how her fledgling firm has grown from scratch to a £1m-a-year business…
As entrepreneurs go, Lisa Fleming must be up there with some of the most successful small business owners on Aycliffe Business Park.
The 37-year-old has grown her Driver Hire recruitment franchise from scratch, with no client-base and zero turnover, into a £1m-a-year business within five years.
And the ambitious Crook-born mum-of-two has her sights set on further growth after expanding her office space for a second time.
Lisa – who juggles a busy family life with her studies for a part-time law degree and training for this year's Great North Run – now runs a five-man office at The HUB Workspace on the business park after moving from Carlton House into larger offices on the first floor of Synkro House.
It's an impressive success story made from humble beginnings.
Managing Director Lisa Fleming bought Driver Hire's DL franchise in 2011, started out as a sole business in a small Aycliffe office and a modest army of drivers. She grew annual turnover to £220,000 in her first year which rose to £240,000 in 2012 and then more than £300,000 at the end of 2013.
It has since grown to £550,000 – but the current financial turnover is expected to hit the £1m mark.
"There's no secret formula," insists the unassuming Lisa, who lives in Low Willington with her husband Wayne and their two children, six-year-old Millie and Laiton, three.
"It's really down to activity, network building, fostering relationships and being conscientious, which brings the word of mouth.
"I think it helps that I'm a qualified transport manager, because when our clients are stuck or they're unsure they speak to me for advice.
"The systems we have in place and the declarations of the operators' licence, transport companies are governed by regulations and driver hours, and we track very thoroughly the working time regulations, so if any of our drivers are pulled over we have all the information available at the touch of a button.
"Unfortunately, some recruitment agencies don't realise they're liable for producing that working time for VOSA (Vehicle and Operator Services Agency).
"Our system which has been built in-house allows us to continually supply fully-compliant drivers to our clients.
"A lot of our business comes from recommendation, because we go above and beyond what we do as a recruitment agency.
"Recruitment agencies have been tarnished, especially in the logistics sector, by supplying non-compliant drivers causing vehicle accidents and by not turning in. I'm not saying we're 100% perfect, but if problems do arise we go on site and sit with our clients' transport managers until we resolve it.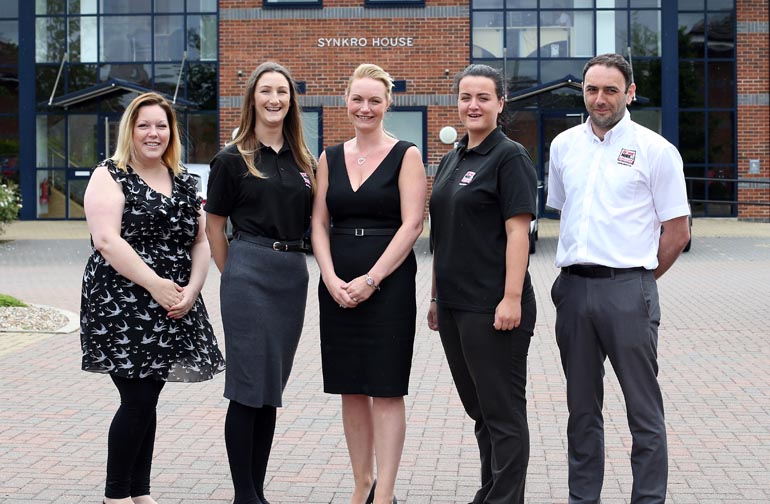 The Driver Hire team (left to right): Accounts clerk Lyn Elkin, business development coordinator Danni Clark, managing director Lisa Fleming, administrator Shannon Murray and business development manager Ian Woodall.
"We educate our drivers on legislation and laws, which makes our drivers want to stay with us. They have peace of mind that they can call us any time and speak to a member of the team or me personally, to keep them legal."
Lisa has a list of impressive testimonials from her loyal clients who go back to Driver Hire time and time again.
"The best testimonial is from one of our national accounts," says Lisa. "We arranged for one of our drivers to turn in, but his wife was rushed into hospital so he wasn't able to do his shift. They had perished goods on the lorry, so I arranged at our expense to arrange for those perished goods to be distributed. It cost us in the short-term, but it was for long-term gain.
"The client was absolutely delighted with the service, and it's things like that we do which brings the referrals.
"Some of our clients end up taking our drivers on their books full-time, which is great for them. It maybe isn't so for us because we lose the drivers and the revenue, but it tells us we're doing our job properly, and we never remain static. We keep the drivers coming through and we keep recruiting.
"We're out there networking and bringing in new business."
Lisa's business background was, she'd happily admit herself, not conventional – if there is such a thing – although there was always an instinctive entrepreneurial spirit just waiting to be unleashed.
She left school in Wolsingham, County Durham, to work in a factory before holding a customer service role with Orange (now EE) in Darlington and spent some time working in Plymouth for the mobile phone giant.
She returned to the North-East with Northumbrian Spring while she undertook a diploma in business and management before she was offered three new job opportunities at the same time in 2004.
"I applied to a well-known estate agents, to become a trainee estate agent, to another company as a customer service manager and to the then Dixon's as operations manager of its Newton Aycliffe distribution centre," she says.
"I was offered all three. I took the Dixon's job and that's what got me into distribution and transport. I did my CPC training and ended up setting up a new franchise for them in 2007.
"But because the business was a seven-days-a-week operation, I realised how bad it was, when we had to get agency workers in and a lot of them were non-compliant.
"I started challenging the agencies and they didn't have a clue what I was going on about, which is what gave me the idea to launch my own driver recruitment agency. It was when I looking into it that I discovered the national Driver Hire brand and that there were regional franchises available to buy.
"I felt like I could make a real difference to transport and logistics firms through my own direct experience of the industry."
That's when Lisa took the leap and invested a lump of money – made up of 50% cash and 50% loaned money – to buy the DL franchise of Driver Hire.
"It was a Greenfield site, with no drivers or turnover," she recalls. "But I had the Driver Hire brand and I thought that recognised name would stand me in good stead, as opposed to trying to launch my own business nobody will have heard of."
Driver Hire Darlington now has more than 120 drivers on its books and 55 clients nationally, including UK Mail, Saint-Gobain and Cemex, and local customers like GCS Johnson and John Warren ABP.
Now the business is booming – her gross sales are made up mainly of Driver Hire (90%) and the DH Recruitment sub-brand she launched last year – Lisa is looking to build on her rapid success.
Drive Hire has adopted a new DVLA licence-checking system, which enables clients to run quick checks and get instant updates on drivers' records.
Only four companies in the UK use the same system, which links directly to DVLA instead of through third parties.
Lisa explains: "It gives us instant reporting on driving licences within 24 hours and any alerts happen with the drivers an email is sent straight to the client.
"It's a much quicker and efficient way of checking drivers' records and also gives our clients peace of mind that they're fulfilling their legal requirements on an instant basis, and not just relying on the honesty of drivers.
"We've already rolled the software out to a number of our clients, with many other firms looking at it, so it's another feather to our bow and a great service for customers."
• Any firms or individuals wanting to know more can call Driver Hire on 01325 314887, or email [email protected]