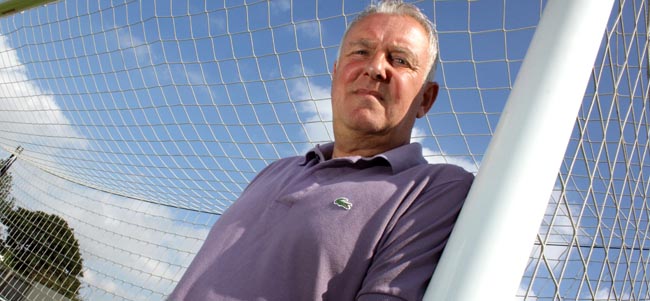 By Martin Walker
Former Newton Aycliffe FC chairman Gary Farley has announced his decision to leave Moore Lane Park after eight years with the club.
The popular Newtonian played a huge part in Aycliffe's meteoric rise from park football to the Northern League top flight.
Farley's biggest achievement off the field was managing the project to acquire funding to redevelop Aycliffe's pitch at Aycliffe Sports Club – transforming it from a Saturday afternoon pub pitch into one of the best new grounds in the Northern League today.
But it was his involvement in football matters which arguably had the biggest impact at Moore Lane.
With his dual role as chairman and assistant manager to Allan Oliver, supported by coach Brian Atkinson, who has long since left the club, Aycliffe won plaudits throughout the Wearside and Northern leagues, culminating with a glorious Northern League second division title win in 2011.
"I have today left Newton Aycliffe FC following eight magnificent years with the club," said Farley.
"I have enjoyed every minute. I have coached some top, top players who had brilliant personalities. We had some fantastic times together and won many trophies.
"Thank you to all the support I received from the committee during my time… you know who you are and did a great job."
Farley stepped down as chairman last summer, with previous manager Oliver taking over the helm following Dan Mellanby's appointment as manager and Farley as his number two.
However, Peter Dixon's arrival in October – along with his three-man coaching team – meant Farley was surplus to requirements at Moore Lane.
He had held a minor backroom role as Oliver was keen to keep Farley at the club, hoping to persuade him to take on a key off-field role.
But the 55-year-old wants to stay involved in football coaching, and is now weighing up his options before stepping back into the game in the near future.
It will come as another blow to Aycliffe, who have seen several key football personalities and off-field management people leave the club in recent seasons.
An Aycliffe FC statement read: "The club wishes to place on record their thanks to Farley for his huge efforts whilst at the club, and wish him all the best for the future."