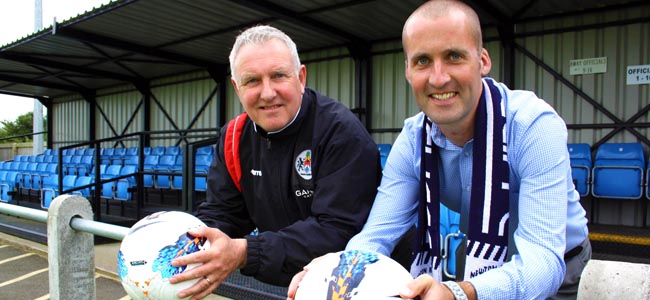 By Martin Walker
Fans of both Newton Aycliffe and Darlington are being asked to arrive in plenty of time for this weekend's big derby.
The Newtonians welcome Quakers for the first-ever competitive game between the two sides at Moore Lane Park on Saturday (8th December), 3pm kick-off.
Police will be coning off residential areas, meaning nearby parking will be extremely limited.
Aycliffe have a park-and-ride service operating from the Xcel Centre on Aycliffe Business Park, from 1.30pm on the day of the game, returning after the game, with parking for 100 cars available.
Aycliffe have also sold more than 400 pre-match tickets for the game, with a ticket-only entrance in operation to ease congestion.
But the club are pleading with fans to give themselves plenty of time, for what promises to be a hectic afternoon.
General manager Dan Lewis, pictured above with chairman Gary Farley, said: "A tremendous amount of hard work and preparation has gone into this fixture to ensure everything goes smoothly, and to minimise disruption to nearby residents.
"Hopefully all that work will pay off and problems will be limited.
"Of course, it's going to be busy, and the 45-60 minutes prior to kick-off promises to be hectic – we're just appealing to fans of both sides to arrive as early as possible, and to think about local residents when parking your cars."
The postcode for the Xcel Centre is DL5 6AP.