A family-run grounds maintenance firm is flying high with five new members of staff – including a former Royal Air Force engineer.
Craig Taylor, who spent his RAF days fixing fighter jets, has joined Newton Aycliffe-based Beaumont Grounds Maintenance as the firm's new head of maintenance.
The 32-year-old, originally from Aycliffe but who now lives in Darlington, joins new landscape operatives Brian Denton, Ian Baul and Adam Hanlon as well as apprentices Bailey Howarth and Matthew Dixon.
The five new recruits have boosted Beaumont's staff numbers to 17, but the landscaping specialists expect that to increase to 22 during the busy summer months later this year.
Craig was a corporal and ground support engineer during a decade with the RAF which began with an apprenticeship after leaving school.
He then spent six years in the oil and gas industry, working offshore for a US oil company, installing and maintaining drilling and exploration equipment.
As Beaumont Grounds Maintenance was increasing its fleet of vehicles and machinery due to an increase in workload, managing director Alxander Lineton turned to his brother-in-law for help to bring the maintenance side of the business in-house.
Lineton explained: "It's always something we've outsourced, but as our client base has grown, our fleet of vehicles and machinery has naturally grown to accommodate that so it makes sense to bring it in-house.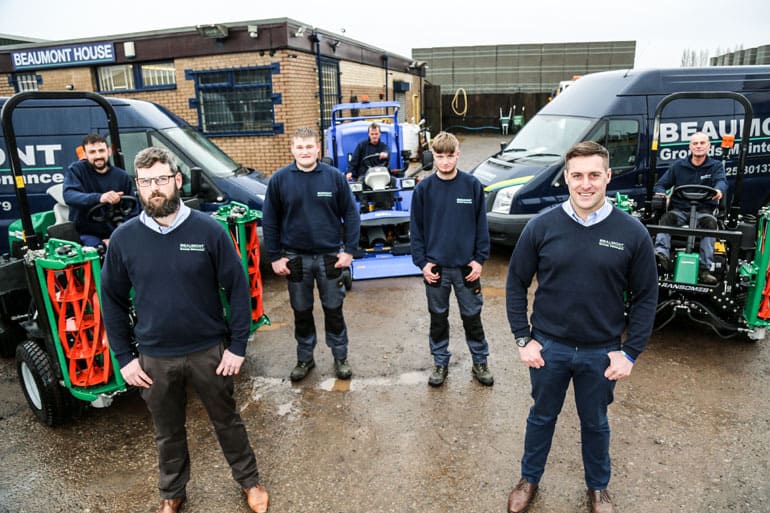 "It's now Craig's job to keep all our machinery moving. It will not only make the business more efficient, it will also improve the service we offer to our customers by reducing the timescale of any vehicle and equipment repairs.
"Craig not only fitted the bill in terms of his vast knowledge and experience, but the fact he's my brother-in-law also ties in with the family ethos we have here at Beaumont."
Craig added: "My grounding with the RAF was very much in vehicle maintenance, which suits me perfectly in this new role.
"But over the years my roles have covered quite a broad spectrum which has given me lots of different skills, which Beaumont can now hopefully benefit from.
"It's an exciting time to join the company. We're continually expanding and upgrading our fleet of vehicles, and keeping them moving as quickly as possible is vital to the business."
Beaumont was established in 1965 by Steven Lineton, who ran the business alongside his garden centre based on Beaumont Hill in Darlington. The company relocated to larger premises on Aycliffe Business Park in 1991 and has since pushed more into the commercial maintenance sector.
It's now headed up by the third generation of the Lineton family, with Alexander as managing director and his sister Sophie as accounts manager.
Beaumont now has a growing list of 160 contracted sites across the whole of the North-East, down to the Yorkshire and Humber areas and across to the Cumbria region.
These include a range of public and private sector contracts – various commercial premises including factories, hotels and premises run by national property management companies – as well more than 50 schools around the North-East region.
Beaumont also looks after about 70% of the land across the huge Aycliffe Business Park, with its client list including Gestamp Tallent, Hitachi Rail Europe, Stiller Warehousing and Distribution, the Xcel Centre, Vine Property Management, 3M, Roman, II-VI Incorporated (formerly Compound Photonics) and Finley Structures.
You can find out more about Beaumont Grounds Maintenance at www.beaumontgroundsmaintenance.co.uk or give them a call on 01325 301379.
• Pictured above: Beaumont Grounds Maintenance managing director Alexander Lineton (front right) and maintenance manager Craig Taylor (front left) with apprentices Bailey Howarth and Matthew Dixon, and operatives Brian Denton, Ian Baul and Adam Hanlon.