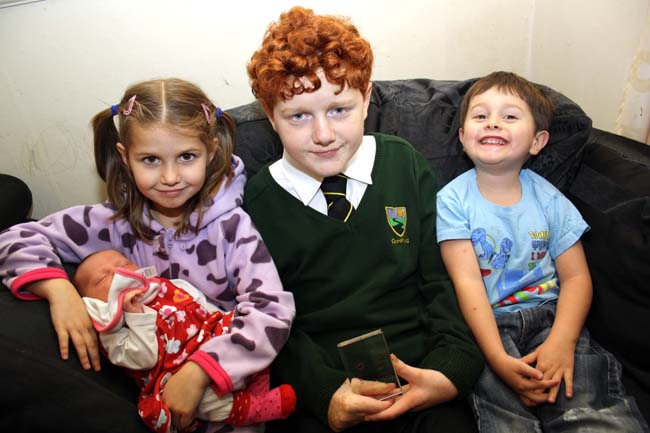 By Martin Walker
A Newton Aycliffe family say they can't wait to enjoy their first "normal" Christmas for more than six years.
Conor Radford, 11, has suffered from Aplastic Anaemia and Arthrogryposis for the last 72 months – since he was just five.
He's had chemotherapy and radiotherapy – and last November he had to undergo a phenomenal bone marrow transplant.
Conor is now on the mend, slowly but surely. He's enjoying school (he's a year 7 pupil at Greenfield) and he's looking forward to enjoying Christmas with his proud parents, Jason and Sarah, and his three siblings – Keisha (6), Ben (4) and the latest family addition, two-week old Poppie.
"It'll be the first normal Christmas we can remember," says dad Jason.
"It's been our life for the last six years, but more to the point it's been Conor's life. He's just got on with it, he just accepted it as part of his life, as if it was normal."
Conor was awarded with an ITV Brave Heart Award at a prestigious ceremony at Newcastle United's St James' Park last week.
He was nominated by one of the Clic Sargent carers at Newcastle RVI, where he had his treatment, and he still has to have fortnightly visits.
It was an emotional moment for his dad to see Conor step up to get his award from Newcastle players.
Jason added: "I support Boro, but Conor has switched to Newcastle now, and even though I'd have preferred to be at the Riverside rather than St James, it was a special moment.
"It's hard to describe how it felt. It was mixed emotions really. Part of me was trying not to laugh, because I knew how embarrassed Conor was getting up in front of all those people. The other part of me was trying not to cry."
Jason and Sarah say they're indebted to the Anthony Nolan Trust for tracking down a bone marrow match, from a 23-year-old man in the US.
His bone marrow had to be harvested, flown to London and then on to Newcastle and transplanted, all within an unbelievable 24-hour timescale.
The operation saved his life, and Conor's parents would welcome any donations towards the Anthony Nolan Trust.
MEET THE BONE MARROW BRAVEHEART