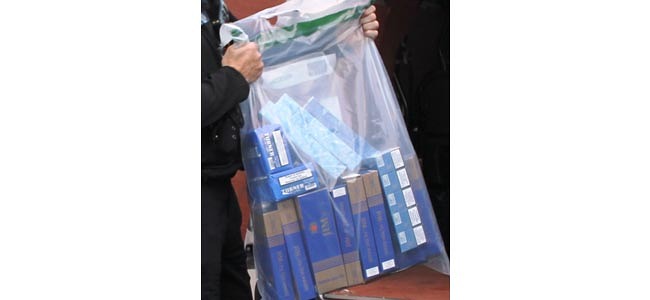 More than 11,000 cigarettes and nearly 9kg of rolling tobacco have been seized as part of a crackdown on the supply of illegal tobacco.
Trading Standards officers from Durham County Council and Durham Police officers searched two premises in Newton Aycliffe and Chilton last Friday (24th October).
Both raids netted a total of 11,140 cigarettes and nearly 9kg of rolling tobacco – all of which was believed to be counterfeit, smuggled or made specifically for the illegal market.
The seizure was the latest in a series of operations carried out by Trading Standards officers and police in a bid to cut the supply of illicit tobacco in the county.
Owen Cleugh, Durham County Council's consumer protection manager, said: "This is one of our most significant hauls to date and steps up the pressure on those supplying tobacco illegally.
"The regularity with which we are carrying out these operations in County Durham sends a clear warning to those who flout the law.
"We would like to thank the public for providing us with a wealth of intelligence concerning the supply of illegal tobacco. This kind of activity undermines the work of the stop smoking services and could encourage young people to pick up the habit."
Cllr Brian Stephens, Cabinet member for neighbourhoods and local partnerships, said: "We are determined to cut off the supply of illicit tobacco in County Durham and this operation was part of our efforts. We will continue to work with the police to keep the pressure on those involved in this harmful trade."
Temporary Inspector Dave Barker, of Durham Constabulary, said: "This operation was planned on the back of information from the community and involved a number of different police teams including our Alcohol Harm Reduction Unit.
"We will continue to respond to any new information which comes in, and even if people do not see instant results they can be assured further actions will be planned."
Anyone found guilty of supplying counterfeit tobacco can face up to 10 years in jail, unlimited fines and their assets may be seized.
Information about illegal tobacco in the county can be reported in confidence to Trading Standards on 03000 261016 or by emailing [email protected]
• As a result of Friday's operations a man and two women were arrested before being released on bail pending further enquiries.