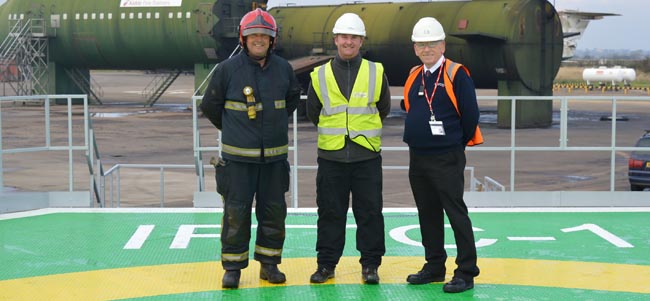 A Newton Aycliffe fabrication and engineering firm is predicting a record -breaking turnover for 2014 with the help from a recent high profile contract win.
D & S Services and its newly launched sister company D & S Construction Services won the contract with Serco, an international service business, for a new helideck at the International Fire Training Centre (IFTC) based at Durham Tees Valley Airport.
The new 196 square metre helideck, which is to be used for training purposes, was supplied by D & S Services and installed by D & S Construction Services.
Mark Kelly, operations manager at D & S Services said: "We are extremely proud and delighted about winning the Serco contract.
"It's a really exciting time for us at D & S Services and to have been given the opportunity to supply such a contract shows the market our capability and will increase awareness of our firm and its offering, hopefully improving our chances of winning similar contracts in the future."
D&S Services, which delivers metal fabrications and engineering services nationally, worked closely with the client and project managers to ensure the complex structure was manufactured efficiently and completed on time.
Paul Hutchinson, project manager at D & S Construction said: "We are really excited about the helideck, as it demonstrates our ability to erect complex structures.
"This is just one of the many projects we have been working on. It's something that not many people can say they have installed."
IFTC business operations manager, Gary Watson, was delighted with the work. He said: "The helideck needed to be built and erected to a tight specification to meet regulatory requirements. D&S Services has worked tirelessly with the team here to deliver the right result on time and in budget.
"It's great to work with a local specialist that has the expertise and commitment to deliver this kind of service and we look forward to working with them again in the future."
D&S Services has increased its workforce to 19 full time employees in the last year to cope with the increasing number of orders, whilst D&S Construction Services employ five, four on-site and one office-based.
2014 is fast becoming D&S Services' most successful year to date, having invested heavily in new machinery and gaining both CE accreditation for structural steelwork and ISO 9001:2008 certification.
The business was recently recognised at the Aycliffe Business Park's Make Your Mark awards as its apprentice Tom Wise won Apprentice of the Year.
• Pictured (above) is (l-r): Steve Hadwin Offshore Industrial Fire Tutor, Paul Hutchinson, D&S Construction Services Project Manager, Chris Brown, Technical Services Manager.