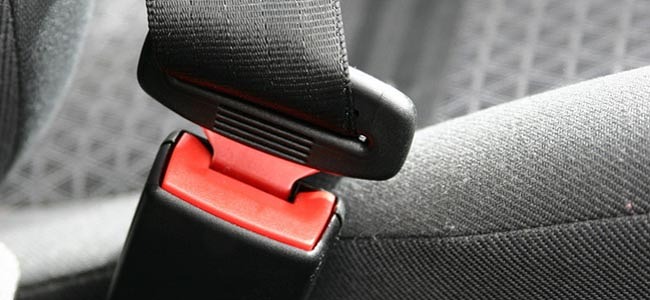 There are no excuses when it comes to a choice between life or death, officers are warning motorists during a week-long seatbelt campaign.
Police speaking to motorists who have not been wearing their seatbelts have heard all manner of excuses, including "my clothes will get crumpled" and "it is uncomfortable".
Motorists have often spent longer making excuses than it would have taken to click their seatbelt into place.
During a week-long seatbelt campaign, which began today (Monday 9th March), officers will be warning motorists that there are no excuses when it comes to their safety.
Common misconceptions around seatbelts include that the air bags will offer motorists enough protection for them not to be seriously injured, that they don't need to wear it as they are only going a short distance or it would be safer in the event of an accident to be thrown from their vehicle.
A person travelling in a vehicle who is thrown forward at a speed of 30mph whilst not wearing a seatbelt can impact with the force of a charging rhino.
Inspector Ed Turner, from the Cleveland and Durham Specialist Operations Unit, said: "Some members of the public have many excuses to offer for not wearing their seatbelts. Some have told officers that it's too uncomfortable and others have said it will crumple their clothes.
"Some people actually spend longer trying to explain to officers why they haven't worn it than it would have actually taken to put it on in the first place.
"We would ask people whether it's worth risking their lives or the lives of others in their vehicle. Obviously the answer is no. In a crash you would be twice as likely to die if you are not wearing a seatbelt. Not only is it criminal but it is totally unacceptable and it costs lives."
In 2014, 688 drivers were issued fixed penalty notices across Cleveland and Durham for not wearing their seatbelts. 128 passengers were found not to be wearing their seatbelts and of these 50 were aged under 14.
Under current legislation drivers are responsible for ensuring that suitable safety restraints are worn by all passengers under 14 years old. Children must use an appropriate child car restraint for their weight until they are 135cm tall or their 12th birthday, whichever is first.
Failure to wear a seatbelt now carries a fine of £100. If prosecuted the maximum fine could be anything up to £500.