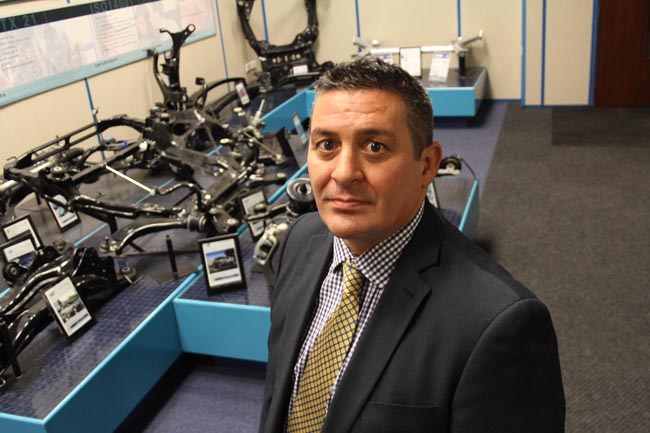 EXCLUSIVE By Martin Walker
Newton Aycliffe's biggest employer has further increased staff numbers to accommodate the launch of new business with its automotive customers.
Gestamp Tallent has employed 150 new people in the last six months, increasing its workforce to 1,322, while long service statistics continue to impress.
The manufacturer of car chassis components employs 1,073 people directly and 259 through an employment agency.
But, more importantly, 1,104 of staff live within a 10-mile radius of its Aycliffe Business Park site.
Plant Director Peter Gallone told Aycliffe Today: "We value our staff and our vision remains to be the employer of choice in the local area, I believe our retention figures suggest we are heading in the right direction.
"The average length of service at Gestamp Tallent is 11 years. Our longest-serving employee started with the company in 1971 and has been with us for just over 43 years.
"There are 136 of employees who have been with the company for at least 25 years and 17 who have more than 35 years' service.
"It's a record we are very proud of. Part of the success of this company is as a result of our employee's effort and commitment, we believe in investing in our people just as much as we do in technology and equipment."
This year alone, 42 employees will complete 25 years' service and will attend an annual presentation, at Bannatynes Hotel Darlington, when they are given the day off to attend, with a guest and their manager.
Each long serving employee is presented with a certificate and gift voucher.
Gestamp Tallent has recently invested in its new Tallent Academy, where new and existing employees are trained and educated.
While its newest site, which is again changing the skyline along St Cuthbert's Way, will transform the oldest part of the Gestamp plant into a modern production facility with more efficient presses which will further increase capacity and sustain and create future jobs.
"The company has always had to invest in projects and assembly lines," says Mr Gallone.
"We have invested in the press shop and two new press facilities, which takes our business into the next decade in terms of investing in our future.
"But investing in our people is crucial, both in terms of rewards for long service but also in training, both on the job and in a classroom environment."
Gestamp Tallent has seen turnover grow substantially in recent years and expects it to increase by 16% this year with a further 12% increase by 2017.
"Last year was a very busy period for us, with lots of new projects coming in to plant 5 as a result of some really good work by our commercial people going out and winning new work," explained Mr Gallone
"Now we are preparing for an even busier year in 2015. We are engaging with our workforce to realise our vision, while continuously developing and working on our KPIs.
"We are aiming to improve in all areas of the business, aiming to create a site which exceeds our customers and shareholders expectations."
The Gestamp group has sites 90 plants worldwide covering Europe, North America, India, China and Turkey, with five of those in the UK including Cannock in the Midlands, Fareham on the South coast, Llanelli in Wales and Washington, as well as its biggest UK site, Gestamp Tallent, in Newton Aycliffe.
Gestamp Tallent works with many of the leading Western European vehicle manufacturers with over 60% of components manufactured in Aycliffe exported.