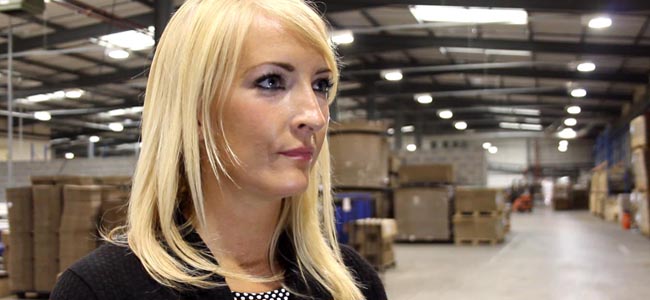 By Martin Walker
The excitement was building across Aycliffe Business Park today for the inaugural Make Your Mark awards event.
More than 200 guests are expected to attend the celebration of business achievements at the Xcel Centre on Thursday night.
Eleven awards will be dished out on the night during an Oscars-style presentation after a three-course meal.
It's hoped the Make Your Mark event will become an annual do.
More than 30 firms have made the shortlists for the awards, while tickets for the evening have already sold out.
Caroline Weaver (pictured), from Tyne Tees Packaging, said: "I think it's a great way for everyone to get together, all the local companies under one roof and it's great to celebrate the positives in business and a fantastic opportunity."
Stuart Howarth from Newton Press said: "The park is booming. We can feel a new vibrancy. We can feel it getting back to what it used to be.
"The awards event is great. There are a lot of excellent businesses on the park, and we just need to recognise that we're as good as anywhere else to come for business and to find what you need."
Alistair Tenant, from D&S Services, added: "You can see just in the environment over the last 12 months, it has taken itself up a notch or two.
"It's a great place to work, a great place drive around. There are new businesses starting up every day, so I think something like the awards, an Aycliffe Business Park managing itself the way it does is really important."
The awards presentation on the night will include:
Engineering & Manufacturing (Sponsored by Sunderland University)
Export (Sponsored by the North East Chamber of Commerce)
Innovation (Sponsored by Ebac)
Service Business of the Year (Sponsored by Merchant Place and Shepherd Construction)
Employer of the Year (Sponsored by Star Radio)
Apprenticeships (Sponsored by Hitachi Rail Europe)
Apprentice of the Year (Sponsored by ITEC)
Newcomer of the Year (Sponsored by South Durham Enterprise Agency)
Small Business of the Year (Sponsored by Finley Structures)
Company of the Year (Sponsored by Business Durham)
Heart of the Community (Sponsored by Xcel Centre)
Go to our Video Vault to see a preview of the Make Your Mark event.