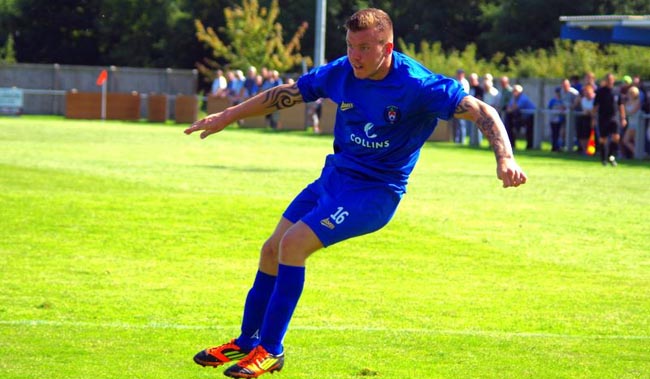 PREVIEW: Shildon v Newton Aycliffe, Wednesday 13, 7.30pm (Dean Street)
By Sam Tuckey
Jamie Owens has gone from strength to strength after making the difficult decision to join Aycliffe from local rivals Shildon in the summer.
Since making the move the striker has become a regular fixture for the Royal Blues and in doing so has hit a rich vein of form which has seen him become the second highest score in the league with 16 goals, one behind Whitley Bay's Paul Chow. That puts him on 22 in all competitions.
Owens admits it was a tough choice to leave Shildon but with limited opportunities in their team and the opportunity of regular action, the offer was too good to turn down.
Since joining the club the striker seemed to strike up an instant partnership with Danny Earl and spoke of his disappointment to see the striker move on.
"I like Danny," he said. "I've played with him before at Norton. He's a good lad. He lives round the corner from me so we're always talking. He was one of the main reasons I came to Aycliffe so I was disappointed to see him leave.
"I personally could have joined Marske, they gave me a good deal but I turned them down so me and him could play together and score goals together but all of a sudden he's gone. It's a weird one, he never stays at a club very long if you look at his record."
Owens admits that manager Allan Oliver had a major part to play in bringing him to the club.
He said: "Allan's a bloke and some of the stuff he said just swung it for me. I wanted to play week in week out in the first team."
Leaving for your local rivals can cause quite a stare amongst the fans and Owens move was no different.
He said: "A few people tweeted me saying they can't believe I'd gone. Some of them said nice things but the majority didn't like that id joined Aycliffe due to the rivalry."
The striker was very honest when it comes to the goal return, he said: "I didn't think I'd do this well, I always end up with around the 30 goal mark, I've proven that the last 3 years but I feel I'll score a lot more this season. I'm on 22 already and it's not even Christmas."
With such a good personal start to the season it's easy to get carried away but Owens remains grounded, he said: "I would love to finish top scorer. I don't think I will realistically because other teams have a bit more quality. If I finish in the top 5 goal scorers in the league I think that would be an overachievement so I'd be over the moon.
"With regards to the team I think we'll finish top ten this year, only if we cut the goals out. If you look at the games we play in, we score plenty, but we seem to be conceding a lot. Every game has finished 5-4, 4-3, if we cut the goals out we'll be fine and we'll win a lot more games."
The Newtonians travel to Shildon FC on Wednesday and Jamie cannot wait to face his former club. "I hope I put a few past them, let them know what they're missing out on." he said jokingly.
Owens played for Shildon against Aycliffe twice last season. "I remember Shildon won 8-0 in the first game, the other Aycliffe played Shildon off the park.
"We've got a few better players this season and with them playing I feel I'll get a goal. I'm hoping we can go there and win.