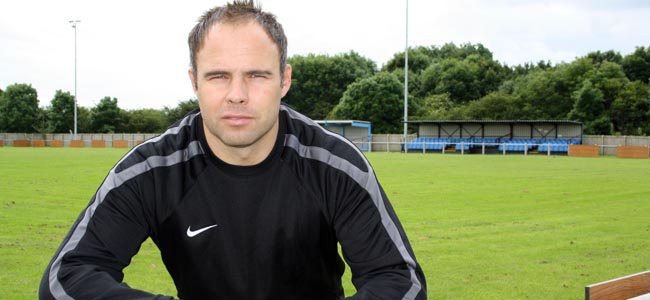 By Glen Robertson
Former Sunderland footballer Phil Brumwell believes the Black Cats' pre-season friendly against Newton Aycliffe will be a "fantastic" occasion for the town.
The Premier League side will face Allan Oliver's men at Moore Lane Park on Friday 20th July, with kick-off 7.30pm.
And the Newtonian Brumwell, who was on Sunderland's books as a youngster before going on to play over 200 games for Darlington in the Football League, hopes the town turns out in force for the special game.
"I think it's a fantastic thing for the town, as well as the football club, that Sunderland are bringing a side here," he told Aycliffe Today.
SEE BRUMWELL'S INTERVIEW IN OUR VIDEO VAULT
"Hopefully the club will get a good gate and it's nothing but good for the club. I think clubs in the Northern League need a few marquee games like this. It obviously brings in finance but it might also bring a couple of extra supporters for the first game of the season."
It is the biggest fixture in Aycliffe's pre-season line-up and the club hope for a turnout to rival that of Darlington's two friendly games over the past two summers, as 1,307 (2010) and 822 (2011) fans flocked to Moore Lane Park
With Aycliffe being home to a large number of Sunderland fans, Brumwell believes the game could attract a huge crowd.
The 36-year-old said: "There should be a big gate. I think you'll get people from neighbouring towns and villages coming to the game as well.
"A lot of people will want to see Sunderland play and it's not that easy to go and watch a Premier League game. It's £20 to £30 for a ticket plus your travel.
"But for a club to come here during pre-season is great, especially for young kids to come see them. If I'm available I'll definitely be coming along to watch it.
"Aycliffe has a really good Sunderland fanbase. It used to be a Sunderland/Newcastle split, but I think it's more Sunderland now."
Brumwell currently coaches Aycliffe's Northern League rivals, Shildon, after leaving Bishop Auckland for Dean Street just before Christmas. He faced Aycliffe twice last season, once for the Two Blues in August and again on the final day of the season for the Railwaymen.
● Newton Aycliffe play a Sunderland XI at Moore Lane Park on Friday 20th July (7.30pm kick-off), with admission on the gate £5 adults and £3 concessions.