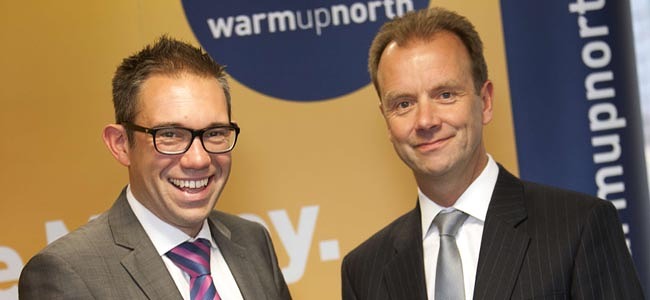 Newton Aycliffe residents are set to benefit from warmer homes this winter as one of the UK's largest energy efficiency initiatives offers additional support to people who need it most.
Warm Up North is offering free or subsidised gas boilers to residents on certain benefits with an inefficient boiler in their home.
To qualify, people will also need to own their own home or be a private tenant.
Launched in 2013, Warm Up North is tackling fuel poverty in the region by making homes more affordable for residents to keep warm.
The scheme is endorsed by nine North East local authorities, including Durham County Council, and is helping residents living across the region.
Eligible home owners or those living in private rented accommodation and struggling with an old inefficient gas boiler could now qualify for a free A-rated boiler and, for people who do not qualify for fully-funded support, Warm Up North could offer eligible residents part-funding for a replacement.
Warm Up North head of commercial Jon Kershaw, pictured above (left) British Gas director of business installations Stuart Margerrison, said: "At the peak of winter, households across the region may be struggling with unreliable and inefficient gas boilers.
"But Warm Up North is here to help those most in need. Whether residents own their own home or are living in private rented accommodation, they could be eligible for a free or subsidised replacement gas boiler if they receive certain benefits.
"I'd urge anyone who thinks they could benefit from a new gas boiler or any energy efficient measure to contact the team to find out more.
"As Warm Up North is a partnership involving nine North East local authorities, residents can feel confident that they will receive outstanding customer service and that all work will be completed to the highest possible standard."
Councillor Eddie Tomlinson, cabinet member for housing and rural issues at Durham County Council, added: "Many residents across County Durham are already making savings on their energy bills as a result of the Warm Up North scheme and now even more people could benefit from support.
"With falling temperatures outside, residents who are most in need could get help to have a new energy efficient A-rated gas boiler installed to help them heat their homes for less.
"When choosing Warm Up North people can also feel assured as we are one of nine North East local authorities to endorse the scheme. Residents who may be struggling to keep warm at home this winter because of an old inefficient boiler should contact the team today to check their eligibility."
For more information on Warm Up North and its range of energy efficiency measures including free or subsidised boilers for eligible residents, contact the team.
For the boiler offer, please call free* on 0800 316 4320. For all other energy efficiency measures, call free* on 0800 297 8073 or visit www.warmupnorth.com