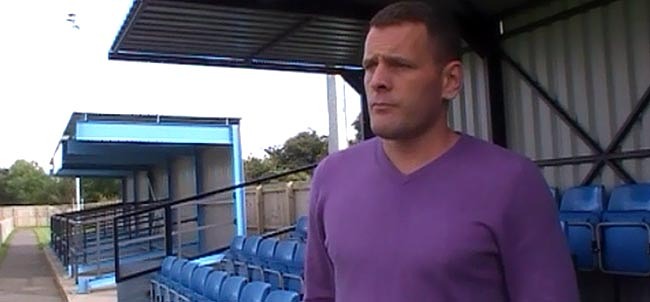 By Glen Robertson
Newton Aycliffe media manager and Aycliffe Today editor Martin Walker has revealed how the town's football club managed to pull off the eagerly anticipated pre-season clash with Premier League club Sunderland.
Sunderland legend Kevin Ball will be bringing a side to Moore Lane Park tomorrow (Friday) night for the first-ever meeting between the two sides, and the PR specialist was the man tasked with organising the game.
"We asked as many clubs as we can and hoped we could get one or two of the big North-East clubs to come here," he revealed. "The hope is we got one or two and thankfully we got one.
"And we got one of the biggest clubs in the North-East in Sunderland. It's fantastic for us and we're really looking forward to it."
See Walker's interview in our Video Vault here
But attracting the Premier League side to Aycliffe was just the beginning. Since then he had to ensure as many people as possible knew about the game.
"There's a lot of work in communicating the game to people through the various outlets we use at the club," he said. "Not just in newspapers, but websites, Facebook Twitter, that kind of thing.
"We've had a team of people working on this. We've made posters, flyers that we've been putting around town.
"There's lots of work that's been going on behind the scenes just to generate interest, just to keep people informed of it and make sure people actually know we're playing Sunderland, and just trying to drum it up as much as we possibly can.
"We want to see a record crowd, which is 1,307 which we got against Darlington a couple of years ago. All of the work we are doing before the game is designed to get a big crowd in.
"It's one of our biggest fundraisers of the season and will hopefully set us up nicely to start the new league season. For Sunderland fans it is the first time ever they'll see Sunderland play in Newton Aycliffe.
"And for Aycliffe fans and the people of Newton Aycliffe, it's the best opportunity they've got of supporting their local club. If ever there was a time to come and see your local team play, it is now."
But his job for the club is not just to organise one pre-season game and take the rest of the year off. Walker, and the other members of the club's committee, have been hard at work organising other events as the club look to raise much-needed revenue.
He said: "In a couple of days we'll be announcing a couple of big events for the club, a Sportsman's dinner with quite a high-profile speaker, a sponsored walk, a Christmas Comedy Night, things like that.
There's always something going on to try and raise funds. So there's a lot to do after we get Friday's game out the way."
● Aycliffe's game against a Sunderland XI on Friday night kicks off at 7.30pm, with admission £5 adults and £3 concessions. Fans are strongly urged to arrive in plenty of time to avoid lengthy queues.