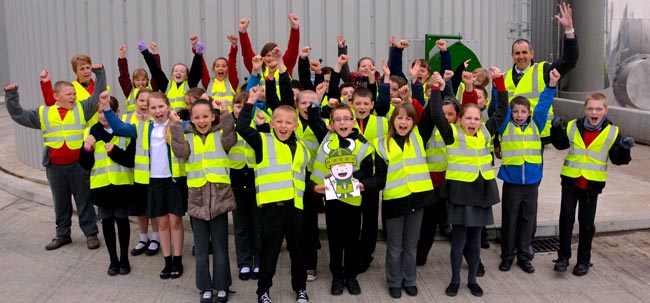 Pupils from a Newton Aycliffe primary school became official 'Waste Warriors' when they visited the town's commercial food waste anaerobic digestion facility to see how leftover food is processed into biogas.
The eco team from Woodham Burn Community Primary School has been taking part in a food waste campaign created by Emerald Biogas to help schools understand the growing impact of disposing of unwanted food.
Following a visit by the renewable energy company to the school earlier in March, where the pupils learned about the anaerobic digestion process, the pupils were given workbooks with activities such as designing a team logo, completing an animation of the anaerobic digestion process and recording the food miles for the school's lunch, to develop their creative design, problem solving and mathematics skills.
As part of the Waste Warriors campaign, they have also been recycling their own food waste produced at school in recycling bins to be processed at the plant. This week 30 Year Five pupils from Woodham Burn Community Primary School took a tour of the plant to see how their leftover food is digested and turned into green energy.
Operations Manager Paul Scott gave a lively tour, with the pupils captivated by all the processes, sights and sounds, including the depackaging machine, the large tanks where the bacteria feed on the food waste and the post-digestion tank where the biogas is produced and turned into heat, power and fertiliser.
Woodham Burn Community Primary School Year 5 pupil, Zack Cooke, said: "It's amazing how everything is pasteurized and compressed into biogas."
Also from Year 5, Woodham Burn Community Primary School pupil, Charlie Pemberton, said: "The technology level at the plant seems like it is from the future. It's amazing!"
Richard Linsley, Deputy Head at Woodham Burn Community Primary School, said: "It was a fantastic opportunity for our Y5 pupils to see how their left over food waste is turned into green energy. They have really enjoyed the challenge of becoming Waste Warriors and looking after the environment."
Together schools across the UK throw away 80,000 tonnes of food waste, with over 16 kilograms thrown away on average in a primary school every day.
The youngsters also have the chance to win a £250 voucher for their school by designing a series of colourful and creative posters that get the food waste message across, as part of a wider north east schools competition. The winning school will be able to purchase an environmentally friendly resource, which can be used for the school's green initiatives.