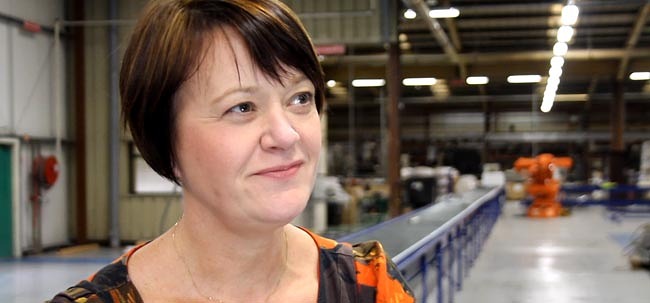 By Martin Walker
Newton Aycliffe manufacturer Ebac has won another major deal to supply freezers to online retailer Amazon.
Ebac bought the Norfrost freezers brand and equipment in 2013 and launched a new factory – the former Radius Systems factory on Heighington Lane, Aycliffe Business Park – to relaunch the popular brand.
The firm announced a deal to supply the freezers to retailers Argos and Euronics last August.
And now it says it is also supplying them to Amazon after striking a deal with the online giants.
The first shipment of 60 litre, 100 litre, 175 litre and 200 litre chest freezers is selling fast in both the silver and white finishes, and Ebac workers are working hard to make sure there is plenty of stock to keep up with demand.
Ebac MD Pamela Petty (pictured above) said: "We have always known that British shoppers want Ebac's British goods. They trust the quality and know that they are supporting jobs and the economy.
"It is important to us that as many people as possible get the chance to buy British, so having them available from Argos and Amazon is a huge boost.
"With the latest retail sales figures showing a record rise, the market is more vibrant than it has been for a decade and the time is right to expand Ebac's powerful British brand."
There was also support for Ebac's plans to manufacture the only British-made washing machine with a survey by leading independent polling company ICM finding that 80% of consumers choosing a country of manufacture said they would turn to a British washing machine rather than an imported rival.
Ebac, which employs about 250 people and has an annual turnover of £22m, hopes the freezer expansion could create up to 100 new jobs in total, with the aim of seeing 50,000 appliances roll off the production line every year.
The Aycliffe firm is also close to bringing production of washing machines back to the UK, with manufacturing due to start soon.
Ebac's ambitions to manufacture 50,000 washing machines every year would create a further 100 posts, boosting its workforce to more than 400 all together and doubling turnover.