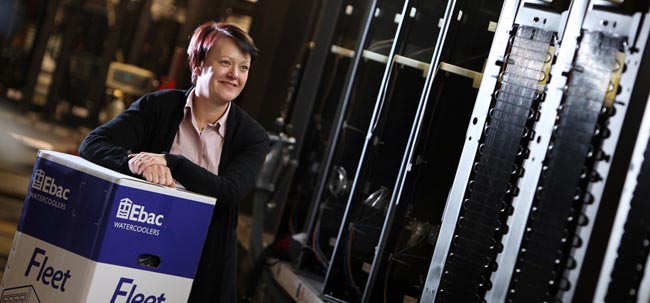 A Newton Aycliffe-based company has put in a £1m bid to the Government's enterprise fund as part of plans to become the UK's only manufacturer of washing machines.
As reported in today's Northern Echo, Ebac wants to start building washing machines and fridge-freezers, creating another 200 North-East jobs.
The firm, which employs 186 people at its Aycliffe Business Park factory, is better known for making dehumidifiers and water coolers employs, but now wants to expand into creating these kitchen appliances after the management team spotted a gap in the market.
If successful with its Regional Growth Fund bid, the firm will raise another £7m through private finance to create another manufacturing facility near its headquarters in Aycliffe, and could be building washing machines and fridge-freezers in 18 months to two years.
The company, founded by John Elliott in 1973, would be hoping for a 5% share of the UK market in both washing machines and fridge-freezers, producing about 100,000 of each a year.
The company, which already exports half the goods it manufactures, would also look to markets overseas to sell washing machines and fridge-freezers.
Managing director Pamela Petty (pictured), Mr Elliott's daughter, said the UK imported four million washing machines every year, with the majority of these made in Italy.
"There are no UK manufacturers of washing machines," she told the Echo.
"We are importing four million each year and each washing machine costs £15 just to import.
"We want to create a product which is well-made and reliable, like the rest of the Ebac range – one that does what it says on the tin. We want people to buy Ebac because it's the best, not because we make them here.
"Like our dehumidifiers, it will be a mid-premium range. We have costed the whole thing – we know exactly how much our washing machines are going to cost us and what we need to invest.
"We have already had letters of interest from Argos and Comet, and also some of our independent suppliers."
The firm is looking to expand after consolidating the business following a turbulent time about seven years ago, when the dehumidifier and water cooler markets matured, causing production to fall from 100,000 of each product to about 35,000 dehumidifiers and 50,000 water coolers a year.
The firm shed 25 staff, paid off about £15m of debt, reduced costs and restructured the firm to ensure the same problems would not reoccur.
It is the second time the firm has applied to the Regional Growth Fund to help with its expansion plans, after it was unsuccessful in round two of the fund.
"The feedback we got last time was that our numbers worked," said Mrs Petty.
"Hopefully, this time we have put a better case forward and told them more about the company.
"Hopefully, the team at the Department of Business, Innovation and Skills will see we are ready to go and that we know our numbers.
"This project is exactly the sort of thing they say they are looking for, but it is a very competitive process."
However, Mrs Petty said if the Regional Growth Fund refused the bid again, the expansion plans would not go ahead.
"Whatever we do with this, it has got to be a risk-free approach. It is about well-made, reliable products," she said.
"We have got two very good businesses which make a profit and generate cash.
"We are in a really good position to make a big leap forward and that is what we want to do with the washing machines project. But the most important thing is to protect the businesses and the jobs we already have.
"We must not risk 200 jobs."
The Government will announce which bids to the fund have been successful at the end of next month.