Schoolchildren across County Durham are being taught how to be safe in and around water.
Durham County Council is running sessions this week for 166 year five and six pupils from eight primary schools, as part of Dying to be Cool – a new campaign to educate youngsters on the dangers of cold water shock – and to coincide with National Drowning Prevention Week.
The sessions aim to educate youngsters regarding the dangers of water, water safety, drowning prevention, basic lifesaving and self-rescue skills, and the effects of cold water shock.
They have been welcomed by County Durham mum Fiona Gosling, whose 14 year old son Cameron Gosling died as a result of cold water shock after going swimming with friends In the River Wear near Bishop Auckland in July 2015.
Mrs Gosling is a staunch supporter of Dying to be Cool, the Safe Durham Partnership campaign which aims to raise awareness of the condition that claimed the life of Cameron, who was a student at Parkside Academy in Willington.
She said: "Cameron and his friends were not aware of cold water shock when they went swimming and had they known about it, he may still be with us.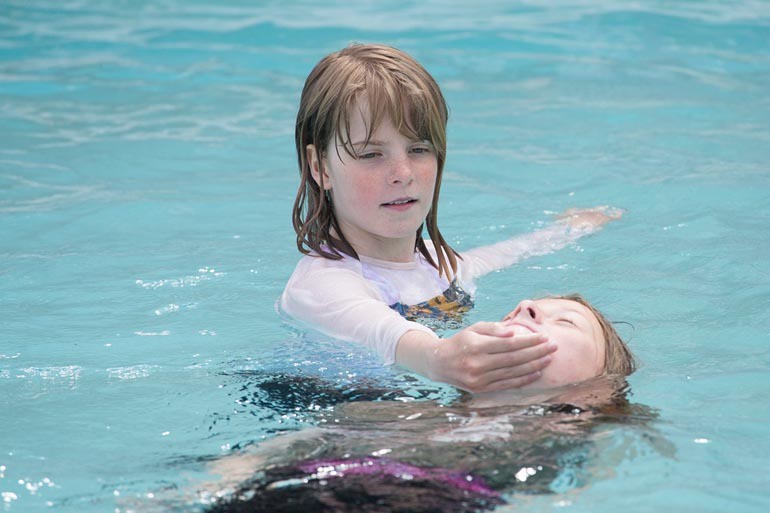 "It is fantastic that so many schoolchildren are being taught about cold water shock and the other dangers our rivers and lakes pose, and I hope the messages will stay with these youngsters should they be socialising near water as they grow up."
Children from Frosterley, Howden Le Wear, Wolsingham, Hamsterley, Crook, Tow Law Millennium, St Johns Chapel, Wearhead, schools are taking part in the sessions.
They are being run at Stanhope Open Air Swimming Pool, which has been chosen not just because it is outdoors but because its depth is greater than indoor facilities.
Sessions are being delivered by Durham County Council specialist lifesaving swimming teachers.
Cllr Joy Allen, the council's portfolio holder for safer communities, said: "Ahead of the school holidays and the potential for weather warmer we know many children are likely to be playing in the countryside, sometimes near rivers.
"We believe it is vital that they are armed with as much information as possible on the risks posed by water as they do so and we are grateful to the schools for allowing the youngsters to take part in these potentially life-saving sessions."
Cold water shock is the body's short term involuntary response to being suddenly immersed in cold water.
The Safe Durham Partnership, which involves the county council, Durham Constabulary, Durham and Darlington Fire and Rescue Service and other partners, is targeting 10 to 16 year olds with its campaign.
Hard-hitting posters have been offered to the county's 278 schools and academies while council representatives and Mrs Gosling are to spread the message through assemblies at seven schools before the summer holidays.
A campaign video has reached more than 233,000 people on the county council's Facebook – of whom more than 150,000 have viewed it – and been watched over 3,600 times on YouTube.
Dying to be Cool also has the support of the Royal Society for the Prevention of Accidents, the RNLI and the Chief Fire Officers Association.
SDP chairperson Rachael Shimmin, who is corporate director of children and adults services at the county council, said: "The campaign has reached hundreds of thousands of people in a matter of weeks and we are determined to get this vital safety information out to the widest possible audience at a key time as the summer holidays approach.
"We hope the sessions and the campaign in general will play some part in keeping people of all ages safe."
Drowning Prevention Week runs from 18 to 26 June and is organised by the Royal Lifesaving Society UK.