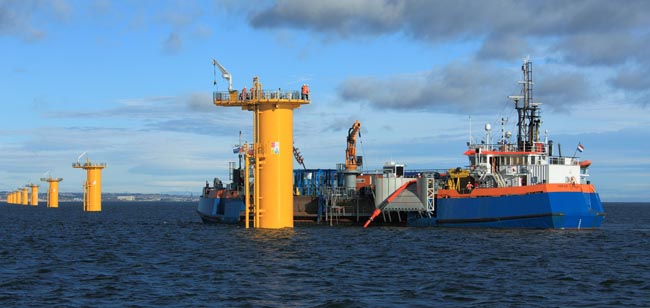 By Martin Walker
A Newton Aycliffe-based subsea technology firm has bagged a hat-trick contract wins to further boost its impressive growth.
Tekmar, which provides bespoke cable protection systems to both the global oil & gas and offshore renewables industries, has won three major contracts with leading international EPC contractor Van Oord Offshore Wind Projects BV, after being awarded work on the Eneco Luchterduinen offshore wind farm development in Holland.
The firm invested £1m to more than treble the size of its Aycliffe Business Park HQ last year – including a new state-of-the-art research and development facility – and increased its workforce from 70 to 100.
And new contracts have reinforced Tekmar's market-leading track record in delivering bespoke cable protections systems.
Chief executive James Ritchie said: "The award win on another major project demonstrates our industry reputation for delivering high-value solutions which are underpinned by our engineering expertise.
"Our J-tubeless cable protection system, TekLink, remains to be the markets leading solution."
Tekmar has been involved in more than 25 high-profile offshore wind projects and supplied over 3,000 systems since its entry into the market.
The firm's latest contract win will see the company supply its cable protection systems to Van Oord which is responsible for the construction of the Eneco Luchterduinen wind farm, located about 23 kilometres from the Dutch coast in Block Q10 of the North Sea.
It is the third contract of its kind that Tekmar has been awarded by Van Oord.
The company has also been involved in supporting Van Oord with the Eneco Luchterduinen project at an early stage by providing support on the design of the J-tubes for the Offshore High Voltage Substation.
The scope of work for the latest contract will see Tekmar work with NKT Cables and LS Cable as the cable suppliers and Van Oord as the installer for a total of 87 cable protection systems.
Tekmar will also provide full engineering of its systems to protect the power cables for their 25-year service life.
Eneco Luchterduinen is a joint venture between Eneco and Mitsubishi Corporation.
The development, numbering 43 wind turbines, will have a combined capacity of 129 MW and generate green electricity for nearly 150,000 households.
Tekmar, which is headquartered in the North-East of England at County Durham, developed its proprietary technologies at its state-of-the-art research and development (R&D) and manufacturing hub to meet the needs of the evolving market.