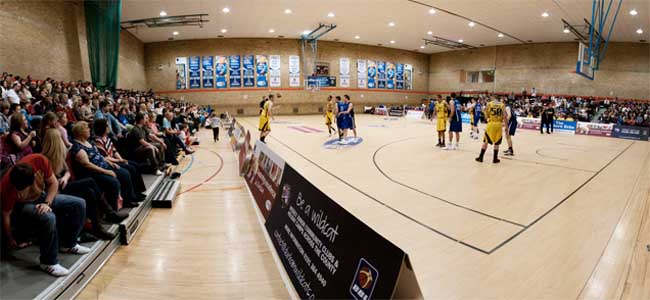 By Ryan Gillham
Durham Wildcats were denied a third consecutive home victory as Worcester Wolves ran out 98-91 winners at Newton Aycliffe Leisure Centre.
It was a high scoring start to this encounter with both teams finding their range early on. The lead traded hands on many occasions with several players claiming an early score count. The Wildcats held the lead for majority of the quarter and took a four point lead into the second period with the score at 24-20.
The positive start continued for the Wildcats as they created a six-point gap midway through the quarter at 40-34. A great defensive display from Durham bolstered their lead up to 10 points with a minute remaining with the score showing 46-36. The lead was cut short to within seven in the final seconds at 48-41 on the buzzer.
The Wolves found themselves trying to play catch up from behind the arc and Durham kept Worcester at arms to hold a three-point lead going into the final stanza at 66-63.
Worcester claimed the lead through an Stanley Ocitti three-pointer, which created a 2 point lead early in the fourth at 66-68. The Wolves took charge of the game with Kai Williams making a big impression opening a lead of 10 points at 66-76.
The lead was stretched further to 13 points, but the Wildcats fought back in the dying stages with three-pointers from Keith Page and Mike Baldarelli closing the gap to five. But Kai Williams put the final nail in the coffin as he made two from the free-throw line to secure the win for the visitors.
Durham head coach Dave Elderkin thought his could have claimed the win with their showing.
"It was a good performance but we need to change those good performances into wins," he said. "We went close with Surrey and Worcester, who are both top four sides, and we could have won both games.
"Not normally a coach would say this but when your team are shooting well from behind the arc you would like your team to shoot more threes and I believe our team shot the three ball well today."
M.V.P – Ralph Bucci; 22 points, 5 rebounds, 4 assists. Captained his team by example but couldn't lead his team to victory.
Durham Wildcats – Ralph Bucci; 22 points, 5 rebounds; Brad Guinane; 18 points, 6 assists, Mike Baldarelli; 17 points, 6 rebounds.
Worcester Wolves – Alex Owuni; 22 points, 7 rebounds, Stanley Ocitti; 19 points, 9 rebounds, Arturas Masiulis; 17 points, 10 rebounds.