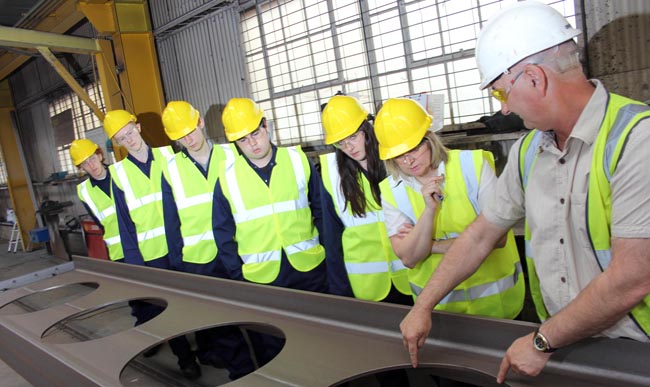 By Martin Waker
Students from Durham University visiting South West Durham Training (SWDT) enjoyed a tour of Finley Structures this summer.
Eleven first year engineering students, who are all 19, were given a tour at our factory on Aycliffe Business Park as part of their "hands on" week with nearby training provider SWDT.
The week forms an essential part of their studies, giving them a "real life" insight into their industry, before they continue their academic work at University.
Finley Structures regularly welcomes students and local schools into its factory.
Managing Director Julie Finley said: "It's important for young people to see for themselves the modern workplace and we're always keen to welcome students into our factory whenever we can.
"For engineering students, in particular, the workforce of tomorrow, it will hopefully prove to be a useful part of their studies."
Durham student Magnus Pierre, who visited the Finley site, said: "I found it very interesting and useful.
"Seeing something practical in the workshop is invaluable to our studies and it gives us a great indication as to the scale of the some of the projects local companies are working on every day."
SWDT CEO Trevor Alley added: "As part of our ongoing partnership with Durham University, 150 students come to us for a week to get practical experience in the workplace.
"They spend a lot of time in our state-of-the-art workshops and get to see the world of work at close hand during site visits to various companies in the area.
"It's essential for students to go out there and complement their academic studies with real experience."