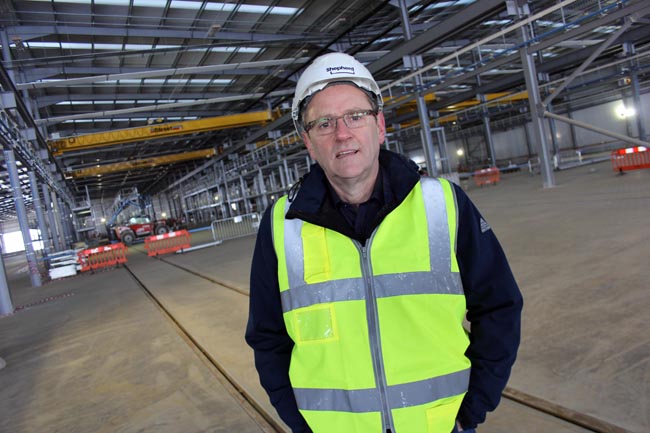 By Martin Walker
Newton Aycliffe MP Phil Wilson insists Durham County Council can't be faulted for showing "real ambition" with its County Plan, which was ripped to pieces by an independent inspector this week.
As reported by Aycliffe Today, independent inspector Harold Stephens said Durham's County Plan – which would see Aycliffe Business Park become the biggest industrial estate in the North East – was "unrealistic, flawed and undeliverable".
It will have come as a shattering blow to County planners, who have so far spent five years and lots of money carefully putting the plan together.
Mr Wilson, the Labour MP for Sedgefield pictured (above) recently in Hitachi's new factory in Aycliffe, says the local authority can't be criticised for trying to do its best for the region.
He told Aycliffe Today: "Durham County Council has ambition for the county and for Newton Aycliffe.
"In Aycliffe we have the biggest industrial estate in the county and I will continue to work with businesses and Business Durham in attracting more companies to Aycliffe Business Park.
"The business park will continue to grow over the years and we need more homes to be able to house the extra workers that will look to relocate to the area.
"If there is no strategic plan for housing, then we'll see companies like Gladman coming along, exploiting loopholes and putting housing developments where we don't want them, on green field sites."
There will undoubtedly be a major post-mortem of the County Plan in the coming weeks.
DCC must decide whether to start again, or scrap the idea all together, after Mr Stephens suggested a tweaking of the plan wouldn't be enough.
But Mr Wilson insisted: "You can't fault the council's ambition. Clearly the County Plan needs to be reviewed, but ultimately the council is trying to do its best for the county and it has showed real ambition.
"We mustn't forget that Durham County Council played a key role in persuading Hitachi Rail Europe to come here, which proves that kind of major economic development can happen here."
DURHAM COUNTY PLAN 'FLAWED' – INSPECTOR