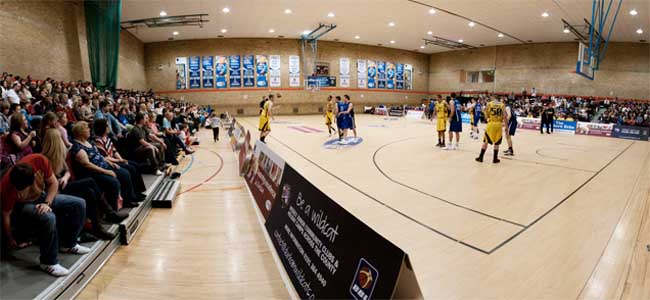 By Ryan Gillham
Durham Wildcats were beaten 118-68 by BBL title challengers Plymouth Raiders in front of the Sky Sports cameras at the Newton Aycliffe Leisure Centre.
The Wildcats were looking to bounce back with an improved performance after Friday's defeat against the London Lions, but were on the end of a heavy defeat despite a strong first quarter.
In was a fine display to start the game for the Wildcats, who took an early five-point lead with Keith Page scoring early from three which seemed to settle Dave Elderkin's side. Despite Plymouth tying the game midway through the quarter the Wildcats kept their visitors at an arm's length with Durham holding the lead 18-16 on the buzzer.
But the tables turned in Plymouth's favour when they went on an 8-2 scoring run to give them their first lead of the game with Schneck and Barnett working well under the basket. The Raiders had full control in the second, taking advantage of a poor defensive display by the Wildcats to create a 21 point lead at the end of the second quarter as the score board stood at 31-52.
Wildcats found themselves in a scoring crisis with the Raiders firing on all cylinders in the third quarter with O'Reilly make a huge impact for Plymouth as they made an offensive statement gradually increasing their lead with Jeremy Bell showing why he will be in contention once again for league MVP. Durham couldn't compete with the Raiders outside shooting and found themselves 40 points down at the end of the quarter with the score at 45-85.
Both sides were trading baskets early in the final stanza but it was Plymouth once again who continued their scoring streak, breaking the 100 mark with over five minutes left on the clock. The Wildcats looked to shorten the deficit but the Raiders kept charging on and scored on the buzzer to round off a dominant performance.
A very disappointed head coach Elderkin stressed that the Wildcats need to put this weekend behind them and focus on the next game
"Very disappointed to say the least," he said. "We are all going to put this weekend's games behind us and move onto the next game where we will be looking to bounce back."
M.V.P – Jeremy Bell (Plymouth Raiders) 27 points and 7 rebounds, Jeremy showed why he is one of the best players in the league and Durham struggled to control him.
Durham Wildcats – Andrew Keister, 16 points. Keith Page, 14 points. Mike Baldarelli, 10 points.
Plymouth Raiders – Jeremy Bell, 27 points. Michael Ojo, 22 points. Colin O'Reilly, 22 points.