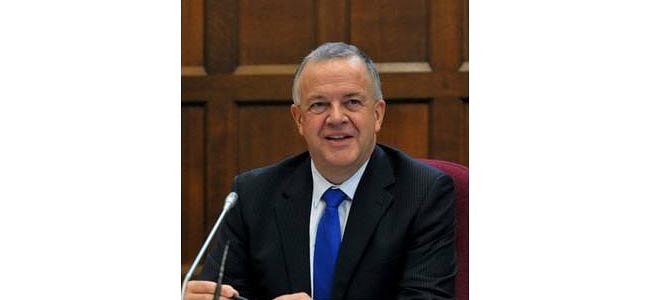 By Martin Walker
The much-celebrated multi-billion pound County Plan drawn up by Durham Council is in tatters after the findings were flawed by an independent inspector.
It means Aycliffe Business Park's hopes of becoming the biggest industrial estate in the North East – and Merchant Park Development's plans to create 5,000 new jobs here – now look in serious doubt.
Planning Inspector Harold Stephens (pictured above) said Durham County Council's plan was unrealistic, flawed and undeliverable – and said if the local authority pressed on, they'd be ruled unsound.
It will come as a shock and bitter blow, and some embarrassment, to Durham, which has spent five years and hundreds of thousands of pounds of tax payers' cash on preparing it.
And it's a major let-down for Newton Aycliffe, with the plan including 2,500 new homes for the town and 123 hectares of new employment land to be developed on Aycliffe Business Park.
Merchant Park boss Geoff Hunton told Aycliffe Today last year that he had ambitious plans of creating 5,000 new jobs with the development of Merchant 2 and 3 – following on from the Merchant 1 site, which is home to Hitachi Rail Europe's £82m train-building factory.
In a 29-page interim report, Mr Stephens was critical of many of its key aspects of the County Plan.
The letter said that the plan's "reliance on high employment growth and associated high levels of in-migration that is built into the preferred economic scenario represents an unacceptable risk which I cannot support on the basis of the evidence before me".
He added: "It brings into question whether there would be a potential degree of housing over-provision derived from this element of the jobs target."
The inspector said a "more cautious jobs growth target, reducing the reliance on in-migration, would be a more realistic and deliverable scenario that would reduce the evident risk that the planned level of housing might well be forthcoming but the anticipated jobs may not."
DCC could suspend the plan for six months and try again, but Mr Stephens has suggested it would struggle to overcome the "fundamental issues" raised within that timeframe.
The only other options for the local authority are to start again from scratch, or scrap it all together.
Mr Stephens added: "I am fully aware of the council's ambition to adopt a Local Plan for County Durham as soon as practicable and to avoid unnecessary delays to examination.
"However, it is not in the best interests of planning or plan-making to recommend an unsound plan for adoption, which would clearly run the risk of subsequent legal challenge.
"Consequently, I would ask the council to carefully consider the implications of these interim views before advising me on the preferred course of action."
We'll bring you more reaction to this story on Aycliffe Today soon.