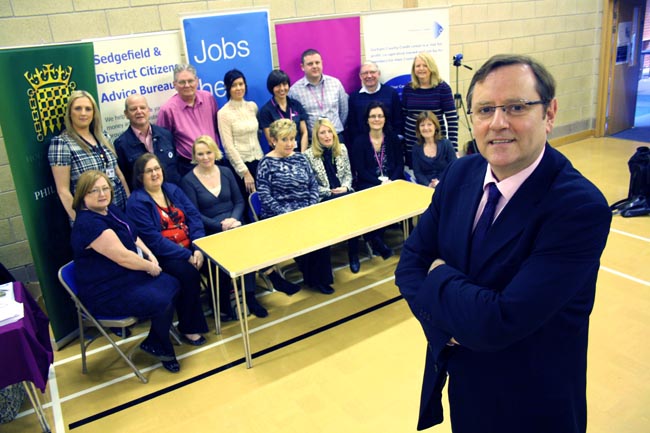 By Martin Walker
Dozens of people attended MP Phil Wilson's first welfare surgery in Newton Aycliffe on Saturday.
Mr Wilson, the Labour MP for Sedgefield, has pulled together a number of agencies to help local people in his Constituency to cope with more hard-hitting welfare reform cuts due in April.
Around 50 people sought advice from social housing provider livin, Durham County Council's Welfare Rights Service, Job Centre Plus, the Durham County Credit Union and CAB at Aycliffe Youth Centre on Saturday.
CLICK HERE SEE OUR SPECIAL VIDEO FEATURE
Further surgeries will be held in Ferryhill today (Monday 18th February), Trimdon on Wednesday (20th February) and Wingate on Friday (22nd Feb).
Mr Wilson said: "Some of the advice they probably didn't want to hear, because of the way the Government has drawn up this legislation, but we've just got to make sure we try to help as many people as possible.
"One of the major issues is the bedroom tax, which is basically cutting people's housing benefit if they're deemed to have one too many bedrooms.
"Some of these people who're being affected have lived in these houses for 20 or 30 years. It's not only a house, it's also a home."
Mr Wilson will host more surgeries this week, details as follows:
• St Luke Church Hall, Church Lane, Ferryhill, County Durham, DL17 8LT (Monday 18th February, 1.30pm-4pm)
• Trimdon Village Hall, Hallgarth Road, TS21 6JT (Wednesday 20th February, 10am-12noon)
• Wingate Community Centre, 55 Front Street, Wingate, Co Durham TS28 5AQ (Friday 22nd February, 1-4pm)