The dangers of illegal tobacco are being highlighted at a series of roadshows in County Durham over the coming weeks.
Illegal tobacco – tobacco that has been smuggled into the UK, bootlegged (duty free) or fake – is common in communities across the north of England but has serious consequences, including making it easier for children to smoke.
Other effects include bringing crime into the community, with criminals selling illegal tobacco and using the profits to launder money, as well as it increasing the availability of cheap tobacco products which can have a damaging effect on Stop Smoking Services.
The sales also harm legitimate retailers and the public purse.
The roadshows aim to raise awareness of these issues and encourage anyone with information about sellers of illicit tobacco to report it.
The events will be held on Thursday August 31 at the Market Place in Durham from 10am to 4pm and on Friday September 1 at the Market Place in Chester-le-Street from 10am to 4pm.
The County Durham Tobacco Control Alliance, a multi-agency partnership with the aim of reducing smoking prevalence in the county, has teamed up with B.W.Y Canine Ltd to host the roadshow events.
Their detection dogs will demonstrate their amazing sniffing skills whilst officers will be on hand to offer help and advice to those who wish to quit smoking as well as educating people on the risks associated with illicit tobacco and the harm caused by "tab houses" in the area.
Owen Cleugh, Durham County Council's consumer protection manager, said: "Research shows that 79 per cent of the public would welcome a crackdown on illegal tobacco and we are committed to tackling this crime and highlighting the dangers of this offence.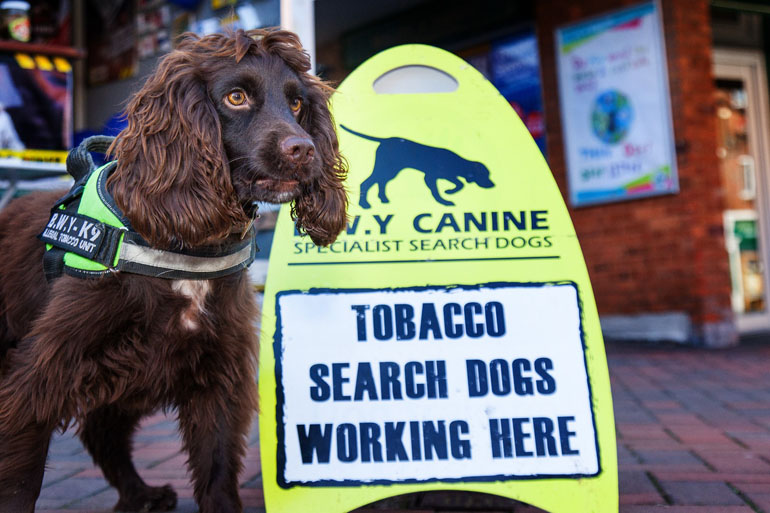 "This is not a victimless crime and we are continuing our work to rid the supply of illicit tobacco at all levels of the supply chain and break the cycle of addiction in our communities.
"Those found guilty of supplying counterfeit tobacco can face up to ten years in jail, unlimited fines and their assets being seized via proceeds of crime action."
Earlier this month, a 70-year-old man was handed a suspended prison sentence and left more than £9,000 out of pocket for selling counterfeit cigarettes from his home.
As part of an undercover operation, Durham County Council trading standards officers posed as customers to purchase cigarettes from James Simpson from Hawthorn Square in Seaham.
And last November, more than 27,000 cigarettes without appropriate health warnings were found at an off-licence in Blackhall Colliery after a sniffer dog led officers to the room in which they were kept, leading to a £1,800 fine for shopkeeper Kamran Adil,45, from Halterburn Close in Gosforth.
To report illegal tobacco call the Illegal Tobacco Reporting Line on 0300 999 0000 or use the Keep It Out reporting form (http://keep-it-out.co.uk/anonymous-reporting/
For further information on help to stop smoking, contact Smoke Free Life County Durham on 0800 772 0565 or 0191 369 2016, or visit the website at www.smokefreelifecountydurham.co.uk