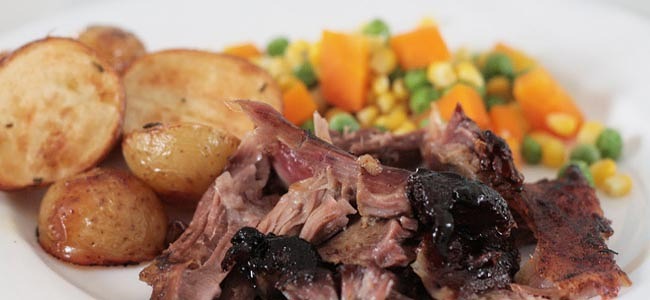 Aycliffe Today's resident chef Debbie Elizabeth serves up a weekly mouthwatering suggestion specially for our readers.
This week…
Slow roasted lamb shoulders with lemon and potatoes!
Ingredients..
1 1/2 kg shoulders of lamb (cut into 4 with the bone left in) 10 cloves garlic (skin on)
11/2 kg potatoes (waxy, such as desiree) 1tbsp dry oregano
2 tbsp marjoram leaves (fresh)
2tbsp sage leaves (fresh)
2 lemons
3 bay leaves
5 tbsps extra virgin oil
Salt and pepper to taste
Recipe…
This dish needs a little time, but very little effort, the meat gets meltingly tender and all the flavours combine wonderfully together.
Serves 4
Step 1
Get your butcher to cut the shoulder of lamb into 4 large chunks through th bone.
Step 2
Peel and cut the potatoes into 6cm chunks.
Step 3
Place meat, potatoes and garlic in a large ovenproof casserole dish.
Step 4
Sprinkle with all the herbs; pour in the extra virgin olive oil, lemon juice and 100ml cold water.
Step 5
Season with plenty of salt and pepper and mix well together .try to nestle the meat down among the potatoes.
Step 6
Cover the casserole wish with foil and a well fitting lid Step 7 Bake in middle of pre heated oven at 190 oC for3 hours until meat is falling off the bone. (check after 2 hours it doesn't need a little more water.
Step 8
Once ready let it rest for 10 mins out of the oven with the lid off and serve with fresh salad or vegetables of your choice.
Enjoy…