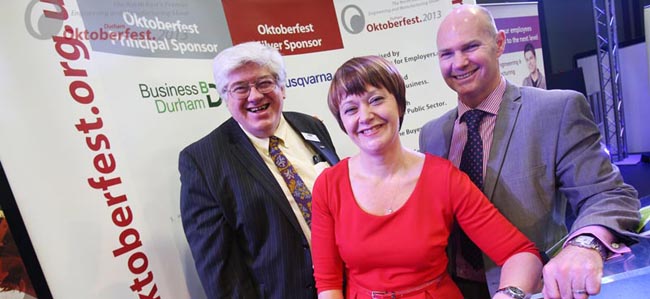 Engineering and manufacturing companies in the North-East are being urged to book their place at the region's biggest and most high profile inter-trading and networking event.
Durham Oktoberfest is organised by Durham's engineering forums in the North, South and East of the county to encourage companies across the region to promote themselves and meet potential buyers, suppliers and customers.
And after the success of last year's show, which was attended by almost 120 exhibitors and 1,600 people, details for the 2014 event on Thursday, 23rd October, have now been announced with the venue once again the Xcel Centre on Aycliffe Business Park.
The line up of guest speakers will be unveiled in the coming weeks.
Darren Race, project leader for Durham Oktoberfest and chairman of South Durham Engineering and Manufacturing Forum, said: "The North East is home to some of the country's most successful engineering and manufacturing companies and this event is all about showcasing them and promoting our world class capabilities and strengths.
"And as it's the only event of it's kind in the region, it also gives smaller businesses the opportunity to put themselves on the radars of those bigger companies – their potential customers – and gain from them an invaluable insight into what it takes to elevate their business to the next level.
"Every year Durham Oktoberfest gets bigger and more successful and we've already had a great deal of interest from companies who want to exhibit. And our message to businesses is if you want to put yourself into the biggest and most fruitful shop window, you need to book your place now."
Business Durham has been confirmed as the event's first Gold sponsor and so far 20 businesses including Hiatco, Bignall Group, Dyer, Eastern Seals and Microbac Ltd have booked their exhibition space.
In addition, over 20 regional and national companies such as BAE Systems, Parker Hannifin and Seaward Electronic, will be involved in the Meet the Buyer event, which allows participants to meet potential new suppliers in a series of one to one meetings.
Last year's show featured some of the region's most prominent firms and organisations with Ebac, Heerema Fabrication Group, Calsonic Kansei and NEPIC all participating in the Meet the Buyer, while exhibitors included Hitachi, Shepherd Construction, DJ Franks Renewables, Pearson Engineering Services and Inspection and Engineering Services (IES), who have now confirmed they're expanding their presence and taking three stands at Durham Oktoberfest 2014.
Trevor Forsyth, Managing Director of Aycliffe-based IES, said: "Durham Oktoberfest is perfect for us as it gives us the chance to meet companies within the manufacturing and engineering sectors and put our business on their radar. Often companies within these industries have used the same suppliers for a number of years so it's difficult to get in front of them, but through this event we can. It is a great way for us to promote ourselves and because of the positive response we got during and following last year's event, this year we'll be taking three stands."
Helen Parkins, Procurement and Supply Chain Manager at Heerema Fabrication Group, said: "We participate in a number of events in the region but for us, Durham Oktoberfest is the most fruitful because we can meet suppliers which are best suited to what we need. We can see in advance who has registered and decide which ones provide services we're interested in, so I would definitely recommend it."
As well as engineering and manufacturing companies, Durham Oktoberfest is also open to support organisations, education facilities and financial institutions which want to promote the services they offer to the business community, for example Business Durham, the North East Chamber of Commerce, Teesside University, NatWest, the National Skills Academy, EEF and the University of Sunderland, all of whom had stands within Hall One in 2013.
Darren Race added: "Durham Oktoberfest is into its seventh year and it's great to see so many of our engineering and manufacturing companies continuing to support it. We want our region to be the best and if we're not afraid to shout about the strength of these sectors, other businesses elsewhere in this country and even further afield will sit up and take notice. Success breeds success and that's why this event is so important in the regional business calendar."
To find out more about Durham Oktoberfest and how you can get involved visit www.durhamoktoberfest.org.uk, email [email protected] or call 0191 3037772.