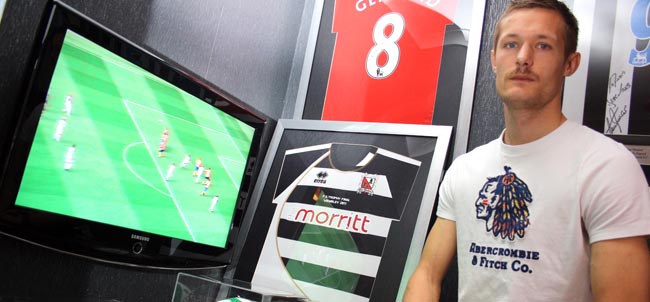 By Martin Walker
Darlington legend Ian Miller says Saturday's derby between Newton Aycliffe and the Quakers will be great for the Newtonians.
Aycliffe entertain Darlo this Saturday – 3pm kick-off at Moore Lane Park.
More than 300 tickets have already been sold for the game via Aycliffe's online shop, www.nafc-online.co.uk.
As the build-up continues, we talk to Miller about the game, and about his time with Darlo.
In the second of his three-part Video Interview, Miller says: "That's the strange thing about football. You wouldn't expect them (Darlo) to be penalised the way they have.
"But it'll be brilliant for Aycliffe to be playing Darlington, and I'm sure there'll be a lot of fans there that were most probably sat in the seats at Wembley, and probably a few Aycliffe fans that would have travelled to that game as well.
"It'll be a good game, and there's nothing more spicy than local derbies like that, so I imagine it'll be a nice tasty game to be involved in!"
Miller also praises Darlo's supporters for sticking with the club.
He adds: "That just epitomises what the Darlington fans are like.
"It was difficult when you were at the big Arena, and you've got 1,500 fans in there.
"But we've seen, when they've taken 10,000 fans 250 miles to Wembley, the fans are there.
"But it's difficult for them in that league, everyone will up their game against them, because they're the big boys in that league, but credit to them, they seem to be flying at the moment."
Parts One and Two of Miller's interview are now in our Video Vault.