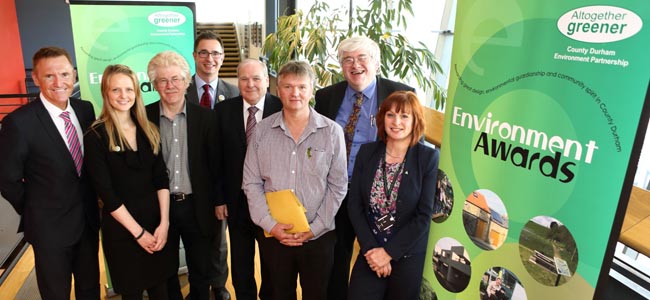 Nominations are now open for the County Durham Environment Awards 2014.
Now in their 25th year, the awards recognise and celebrate projects and activities that improve and enhance the environment.
Applications are invited from individuals, community organisations, businesses and schools across County Durham for the following categories:
• Built environment
• Climate change
• Community partnership
• Craftsmanship
• Greener business
• Natural environment
• Places and spaces
• Schools and colleges
• Volunteer group of the year
• Volunteer of the year – under 18
• Volunteer of the year – over 18
• Waste management
This year sees the introduction of a new places and spaces category, rewarding schemes that create cleaner and greener surroundings that respond to the needs of a local community.
Seaham Harbour Marina and Durham University Science Site were the big winners at last year's event. Both schemes exceeded the criteria in a number of categories and were acclaimed as 'outstanding' environmental projects for the sustainable principles incorporated into their design and development.
Other winners included the restoration of Scargill Castle in Teesdale, Bishop Auckland Urban Renaissance scheme, Durham Wildlife Trust's Heart of Durham project and the improvement of Yohden Primary School's grounds.
Terry Collins, Chair of the County Durham Environment Partnership, said: "The Environment Awards have been recognising and celebrating the fantastic environmental work which has taken place throughout the county for two and half decades now.
"We all have a responsibility to protect the environment in our day-to-day actions but we know there are others who go the extra mile and invest a lot of time and effort into making County Durham cleaner and greener for all to enjoy.
"We want people, businesses and organisations to tell us about their work through the Environment Awards so we can give them the recognition they deserve."
The awards were officially launched at Gala Theatre, Durham today.
For more information and details on how to enter, call 03000 265 545 or visit www.countydurhampartnership.co.uk/envawards
The deadline for nominations is Friday, 25 July, with shortlisting and judging taking place over the summer and the winners announced at a ceremony in Durham in November.