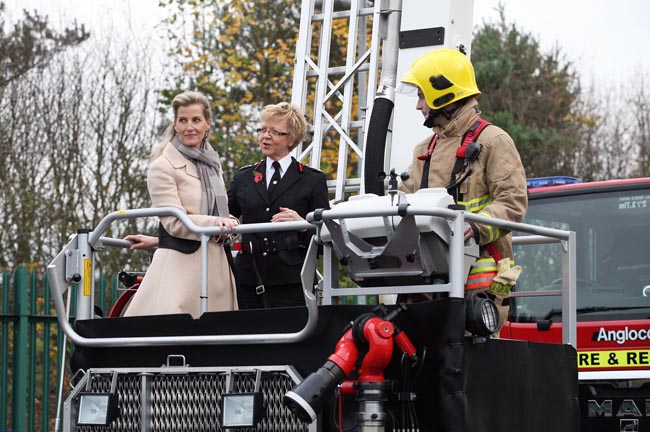 The headquarters of County Durham and Darlington Fire and Rescue Service (CDDFRS) has been officially opened by Her Royal Highness the Countess of Wessex.
Firefighters, officers, control and corporate staff from the service gathered at HQ, Belmont Business Park, Durham, to greet the Royal party. They were joined by local councillors and dignitaries from the region.
During the visit the Countess of Wessex was shown the new command and control section of the building, which became operational in October 2014.
There was also be an exercise involving Scrappy, the service's fire investigation dog, a demonstration of the capabilities of the aerial ladder platform and a water rescue display.
Before officially opening the building and unveiling the plaque to commemorate the occasion, the Countess of Wessex met members of the Young Firefighters Association. These are all local young people between the ages of 13 and 17 who take part in weekly training sessions across County Durham and Darlington based on the fire service and run by service personnel in their free time.
The new HQ is home to more than 100 staff and the site replaces the former HQ at Framwellgate Moor in Durham, which has now been sold.
CDDFRS had long been looking for a new HQ building to replace the outdated Framwellgate Moor site, which opened in 1957 and had become very expensive to run and maintain due to its age.
The new HQ was originally built to be one of seven regional control centres, although it was never used for this purpose. In 2012/13 it was identified as the ideal location for CDDFRS HQ and was carefully adapted to meet all of the requirements of the service.
The HQ move is just one element of the service's estates improvement programme: in April this year the new technical services centre, incorporating workshops and stores, opened in Bowburn; Crook Fire Station was officially opened in May; work began on a new Durham Station in Sniperly (due for completion early next year) and the new training centre in Bowburn, which will open in spring 2015, is currently being built.
Pictured above (from left): HRH the Countess of Wessex, Susan Johnson chief executive of County Durham and Darlington Fire and Rescue Service and firefighter Nigel Clarkson in the aerial ladder platform at headquarters, Belmont.