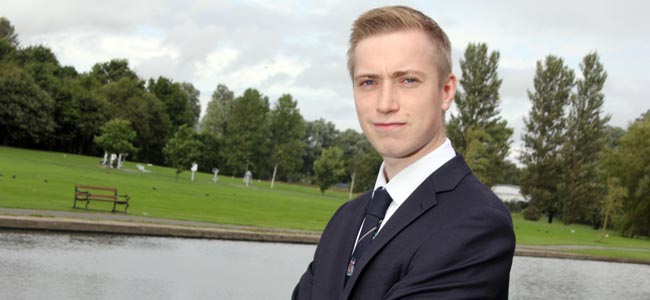 By Zoe Skerrett
Tom Twissell is Newton Aycliffe's youngest town councillor and has big plans for the Youth Centre and getting more young people interested and involved in politics.
The 19-year-old, who attended Woodham Academy, says his interest in politics began in 2010 with the General Election with his friend, and fellow councillor, Daniel Summers.
After winning a seat on Great Aycliffe Town Council (GATC) with 432 votes for the West Park ward, Tom works closely with the Youth Centre and Newton Aycliffe and Shildon Alive (NASA) to make the town a better place with plenty of community involvement.
"My favourite part about being a councillor is definitely being able to go and help out at the Youth Centre," Tom told Aycliffe Today.
"It will be rewarding to see what my changes will make to the place.
"Being the youngest councillor in the town is definitely hard work, but hopefully it will increase the interest in politics to the younger generation."
Because of his age, Tom is hoping that youngsters will see him as more relatable when it comes to politics and the town, as he understands best what the younger generations would like to see in Newton Aycliffe.
"He is a very brave young man who stood out from his peers and decided to do something positive for himself, his family, his friends and the community," Jimmy Atkinson, Town Councillor told Aycliffe Today.
"His views are valued and important. It was an achievement just to go through the election process as a teenager but Tom accepted the challenge and hopefully, will inspire and encourage other youngster to do the same.
"For any youngsters interested, I would encourage them to start on the Youth Council. Apart from giving them a grounding in politics it gives them a platform to feed ideas to the full Council."
Fun In The Park is one of the activities organised by the GATC that Tom, one of 30 Town Councillors, has helped out with and they have been a massive success with residents all over the town.
Friends Of West Park is another activity he is looking to be involved with. They have plans to clean up the Boating Lake making it for recreational use again rather than environmental. Eventually, FOWP would like to see the lake with boats on it instead of just a wildlife lake.
With two and a half years left as a councillor, Tom is unsure of his political ambitions for the future but has a keen interest in the care profession and has just accepted a job in a care home on the town.