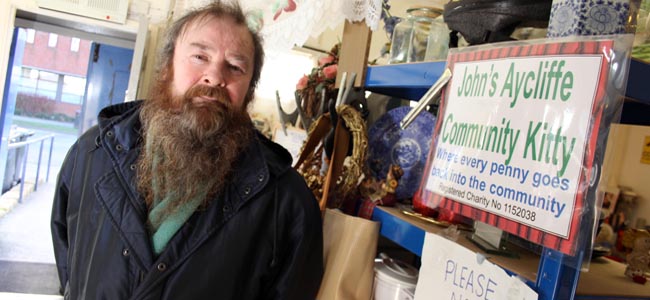 By Martin Walker
Durham County Council says it is still trying to find a new location for The Cubby community cafe and charity fundraiser Honest John.
As reported on Aycliffe Today last week, charities and voluntary groups in Newton Aycliffe could lose out to the tune of £20,000 a year if The Cubby can't be relocated this year.
Durham Council issued notice to The Cubby after it sold the land to developers – and the popular cafe must find new premises by October of this year.
Along with it will go "Honest" John Hilton's bric-a-brac stall, which has raised an enormous £102,000 in the last seven years.
UNCERTAINTY LOOMS FOR HONEST JOHN
Durham Council says it continuing to work with The Cubby in an effort to find a suitable alternative location.
Head of planning and assets Stuart Timmiss said: "The council is committed to the regeneration of Newton Aycliffe town centre and the redevelopment of the land that The Cubby currently occupies is central to this plan.
"With the potential for more jobs and a better local economy the council gave the current leaseholder, Great Aycliffe Old People's Welfare Committee, notice to vacate the site.
"By giving the committee the maximum 12 months' notice and by continuing to work with them to find a new location, we hope that the end result will be for the benefit of everyone in Newton Aycliffe."
Aycliffe Town Councillor Bill Blenkinsopp, who runs The Cubby, told us last week: "We are talking to Durham County Council in trying to find a new location and we're confident we'll be able to do that.
"But whatever happens and wherever we end up, there will always be a place for John."
WHAT WOULD WE DO WITHOUT HONEST JOHN?