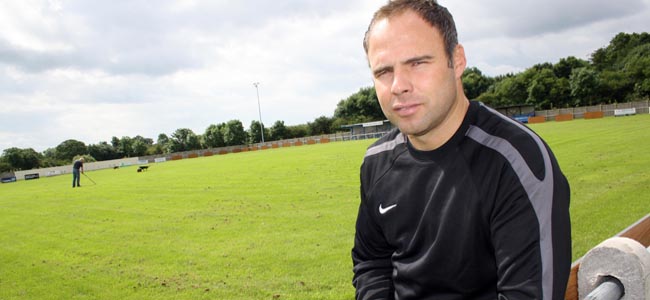 By Glen Robertson
Phil Brumwell believes the success of his hometown club has been down to keeping the core of the squad intact during Newton Aycliffe's meteoric rise to the Northern League first division.
The current Shildon coach, who has lived in Aycliffe most of his life, told Aycliffe Today that the club have benefited from showing loyalty to the players who have helped lift the club from amateur football to challenging at the top of the world's second oldest league.
Talking ahead of his former club Sunderland's visit to Newton Aycliffe for a pre-season friendly at Moore Lane Park on Friday 20th July, Brumwell said: "The results the club got last year, when they were in the top six for most of the season, surprised everyone, but it wasn't surprising to me as they've always kept the core squad together and that is priceless.
SEE BRUMWELL'S INTERVIEW IN OUR VIDEO VAULT
"If you do that then you only need to add one or two new players to get a good blend. If you've kept the likes of Sean Tarling through the seasons, you only need one or two to keep growing."
Brumwell, who played over 200 times for Darlington FC before playing for Bishop Auckland and Shildon in the Northern League, believes the Newtonians have shown that the town had a demand for a football club for many years.
The 36-year-old currently lives in Aycliffe with his wife Vikki, 30, and their two sons Harry, 6, and Sam, 1, and he's been a Newtonian all his life.
"Aycliffe is fanatical about football and it's always needed that football club," said Brumwell, who currently works as a financial claims manager for a Newcastle-based High Street group.
"I think what Allan (Oliver) and the committee have done to build this up and climb the league so quickly is amazing.
"The town does need a football club and I think the supporters the club gets each week proves the town needs the football club.
"I always watch out for Aycliffe and what they've done from being nothing to having a state-of-the-art stadium and a good fanbase is exceptional for the town and the club are thriving at the moment and I hope they continue."
Brumwell recently called an end to his playing days, choosing to leave Bishop Auckland for a coaching role at Shildon in December of last season. The former Sunderland player has ambitions to make a name for himself as a manager.
"I've always wanted to be a manager, but it's not as easy as it seems," he said. "I tried it for a season when I was player/manager at Whitby, but it was a nightmare playing and managing.
"It's a lot of work and I appreciate what the likes of Allan Oliver and Gary Farley have a lot of work to do. It's a hard job but I want to get a grounding and I want to learn from people.
"I was offered the chance to be a coach and it was the hardest thing in my career to decide to stop playing and I really miss it, but I think I've got a future in management. I need to learn the ropes first, get a bit of experience and then develop as a coach or a manager."
● Newton Aycliffe play a Sunderland XI at Moore Lane Park on Friday 20th July (7.30pm kick-off), with admission on the gate £5 adults and £3 concessions.
EX-BLACK CAT RELISHING SUNDERLAND FRIENDLY