Former Labour Prime Minister Tony Blair reckons Jeremy Corbyn has "no chance" of winning the 2019 general election.
On a visit to UTC South Durham on Aycliffe Business Park, the controversial ex-Sedgefield MP said Labour has to find a way of getting itself back into the "mainstream".
But he hopes the Tories don't get a "blank cheque" with a thumping majority next week.
"If the poll is right, there's no way Labour's going to win a majority, so the question whether or not Jeremy Corbyn becomes Prime Minister frankly isn't the issue in these last two weeks," said Blair, as he strolled around the engineering college with Phil Wilson, Labour's current candidate for Sedgefield.
"The question is do the Tories get a thumping big majority with a blank cheque to do what they want, or do we at least have some people like Phil in Parliament who are going to stand up for the local area, and help return the Labour Party to mainstream Labour.
"If you do get a large Tory majority, people in this region we feel it deeply.
"If you look back over the last 10 years and compare it with the previous 10, my government, like it or not, was investing in education and hospitals in the north – when I left office, satisfaction levels were at their highest since the creation of the NHS."
Blair also reiterated his support for staying in the EU – despite images emerging on social media recently, showing one of Blair's old election leaflets saying we should leave the EU in the 1980s.
He said: "In this world today, you have two giants, America and China, and the real reason for Europe is for the smaller countries, and we are smaller as are Germany and France – if you don't band together you are going to get flattened.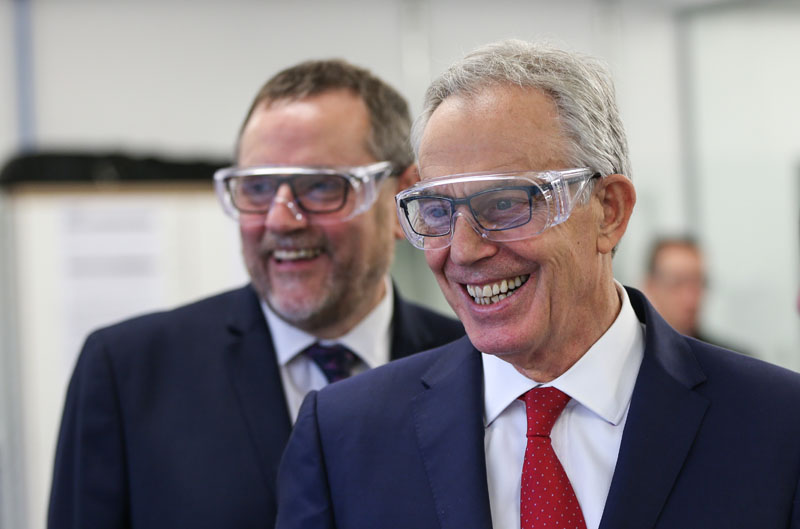 "Brexit is a specific question, people say we told you to do it and you haven't done it, but I honestly believe we could explain that (our position) to people, but it is the combination of that and the anxieties people have over the direction of the Labour Party.
"We were very clear that as a Labour Party we embraced the modern world but we kept very strong roots in our communities – people here tend to be patriotic, law-abiding and they want a mainstream Labour Party, and if they are not given it, over time they drift away.
"We won three elections with a modernised, mainstream party, and since then we've lost three and, if the polls are right, we are on the verge of losing a fourth, and that's why it is so important that people like Phil and other good MPs in this region are returned, because they will be part of moving British politics back to the mainstream."
Six people are bidding to become Newton Aycliffe's MP in the December 12 election.
They are:
• David Bull (Brexit Party) from Suffolk
• John Furness (The Green Party) from Darlington
• Paul Howell (Conservative Party) from Darlington
• Michael Joyce (Independent) from Darlington
• Dawn Welsh (Lib Dems) from Gateshead
• Phil Wilson (Labour Party) from Heighington