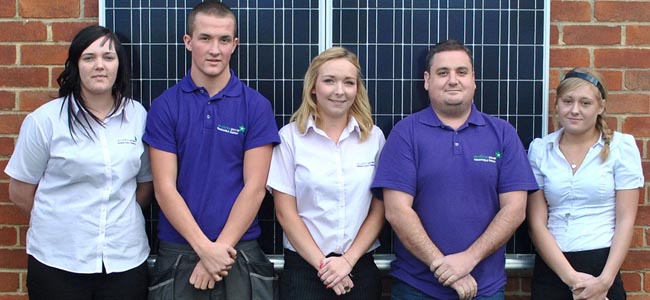 A Newton Aycliffe renewable energy firm with a heart for the community is celebrating after successfully completing a string of local projects.
Aycliffe-based Revolution Power has experienced a recent surge in demand for solar photovoltaic (PV) panel installations.
With much of this demand coming from local organisations, Revolution Power, which is no stranger to charity or community support, has completed work on a range of local projects during a busy five-week period.
These projects included three installations of four-kilowatt (kW) PV systems on Firthmoor Community Centre and a 12 kW flat roof-mounted system on Peaseway Medical Centre.
The Company also installed a three kW panel on Hamsterley School as well as a similar system at Yarm Road Methodist Church in Stockton.
This work follows on from other community projects undertaken by Revolution Power over the last year, including work on Durham College's Science department and, more significantly, the Newbiggin Maritime Centre.
Revolution Power managing director Wayne Richardson said: "We've been delighted to carry out this work on Firthmoor Community Centre and other local buildings, working closely with the clients to ensure that their expectations and our standards were met every time.
"All of the systems we've installed not only benefit the environment but also help to maintain low running costs during times of escalating energy prices, which is especially important for third sector organisations at this time."
George Oliver, centre manager at Firthmoor Community Centre, said: "The standard of Revolution Power's work was excellent and the whole team was knowledgeable, helpful and very friendly to work with.
"We were suitably impressed by the work that Revolution Power had done at another community centre and we decided that it was the best Company for the job at Firthmoor. After this, we would definitely consider working with them again in the future."
Having experienced continuing growth year-on-year and ever-increasing turnover since its launch, Revolution Power has now also invested in expanding its fleet of company cars.
Another two smart cars have been added to the fleet and five of its vans have also been re-branded, which Wayne hopes will improve his company's image within the local area.
Despite many of its local competitors guaranteeing clients 43.3 pence per kilowatt hour (kWh) back on PV installations, Revolution Power, which prides itself on honesty, is currently quoting 21 pence per kWh as the amount that each of its customers can potentially make back from their installations.
This is due to the uncertainty of the government's feed-in tariff which could, from March, be reduced to the figure that Revolution Power is giving to its customers so as not to mislead them.
The Company is now gearing up to start work on new contracts in 2012, with hopes that this year will reflect the success of 2011.
For more information on the company, please visit: www.revolutionpower.co.uk