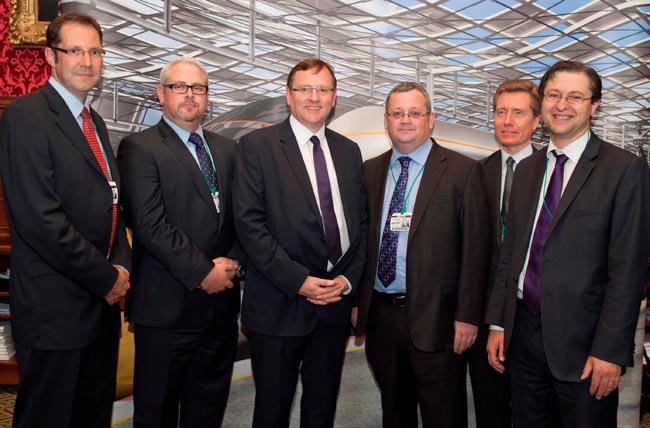 MPs learned last night how the official signing of the transport deal which will bring a next generation train assembly plant to County Durham has already led to significant interest from potential suppliers also interested in locating in the county.
The announcement was made at a reception at the House of Commons backed by Durham County Council and hosted by Sedgefield MP Phil Wilson which was designed to celebrate the signing of the Department for Transport deal with Hitachi Rail Europe (HRE).
In attendance were delegates from Merchant Place Developments, which owns the site the assembly plant and UK Research and Development base will be built on, as well as HRE's Newton Aycliffe plant manager, Darren Cumner.
Members of Parliament heard that construction will start on the Newton Aycliffe site in the New Year with the site fully operational by 2015.
However, they also heard that the announcement this summer that the Intercity Express Programme contract had been signed has already lead to interest from supply companies considering setting up in Newton Aycliffe Industrial Estate, which is the second largest business park in the region.
The plant itself will result in 200 construction jobs and 730 posts once complete, thousands more are predicted to be created as part of the supply chain.
Speaking after last night's reception Cllr Simon Henig, Leader of Durham County Council, said: "This event has been a celebration of three years of hard work by all the partners involved in the project. I am delighted to see so much interest from Members of Parliament here and I look forward to the project becoming reality."
Hitachi Rail Europe's Newton Aycliffe Plant Manager, Darren Cumner, said: "It's fantastic to be able to participate in an event like this with the project live. The next stage of the journey begins now."
Phil Wilson MP said:"It's great to be able to promote County Durham at an event like this as a place to live, work and do business."
● Pictured (L–R) is Andy Rogers/IEP Project Manager HRE, Jamie Foster/Procurement Director HRE, Phil Wilson MP for Sedgefield, Darren Cumner/HRE Newton Aycliffe Plant Manger, Michael Chicken/Chief Executive Merchant Place Developments and Cllr Simon Henig/Leader Durham County Council.