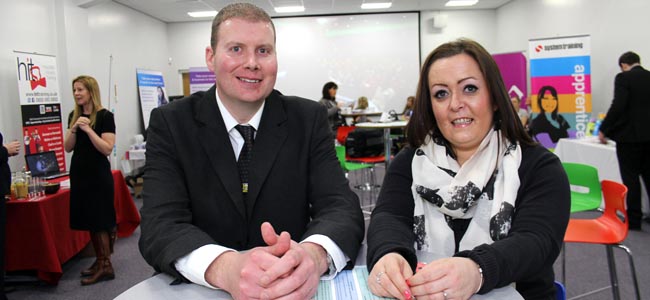 By Martin Walker
Training providers from across the region teamed up to stage a North East Apprenticeship Forum on Aycliffe Business Park last week.
Organised by national firm Hit Training, which has a regional branch on the park, the forum was hosted by South West Durham Training (SWDT) as part of National Apprenticeship Awareness Week.
Businesses from across the North-East mingled with industry experts about the importance of apprenticeships, while more than 50 local schoolchildren attended and took part in some interactive workshops.
Aycliffe training provider ITEC was also part of the forum, along with Group Horizon, the NECC, BL Hairdressing, livin and System Training.
"It was a great example of a number of training organsiations all coming together to showcase what training opportunities there are," said Simon Liversedge, Hit's area manager for the North-East, pictured above with SWDT business development co-ordinator Kirsty Haden.
"We're new to the region but it's been a great experience working with other firms in the area and we're hopeful it will become an annual event."
SWDT chief executive Trevor Alley added: "Some of the region's key companies are embracing apprenticeships and the message we need to get out to employers is that the apprenticeship route is not a risky one, but one that will produce a highly capable member of staff, with exactly the right skills and experience for their business.
"It's vital that businesses in all sectors have a succession plan, and training up young people is a core part of that planning, otherwise there will be even bigger skills shortages and companies will quickly find themselves with an ageing workforce and having to fire-fight rather than training for the future."