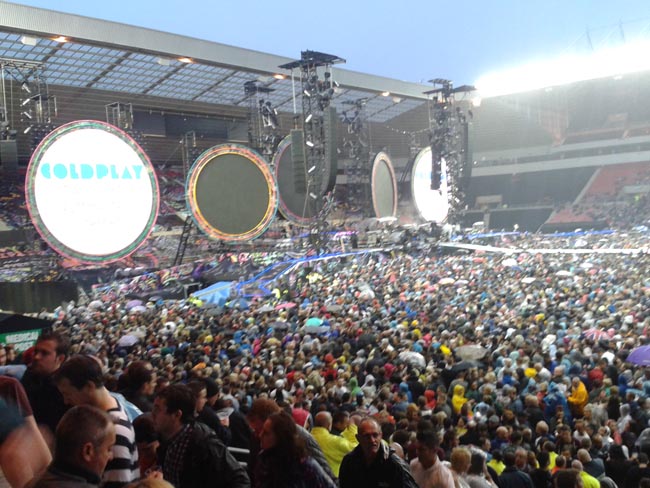 The heavens opened and soaked the fans in a continuous torrent of rain – but they ignored the weather to enjoy a thrilling show when Coldplay appeared at the Stadium of Light on Thursday night.
Hundreds of Newtonians made the journey made the journey to Sunderland as more than 50,000 people packed into the stadium.
Coldplay opened with Hurts like Heaven and gave a new meaning to Stadium of Light by giving out wristbands that lit up in different colours in time to the music – alternating between green, yellow, blue and pink – turning the crowd into a shimmering kaleidescope.
The Echocritics stage was ablaze with colour too, with instruments covered in bright grafitti. Thousands of balloons released into the crowd added to the effect.
They played all their big numbers, including Clocks, Paradise and Charlie Brown, and got the crowd to sing along to their popular hit Yellow.
At one point, the band said they were going to go, as they had something up their sleeve.
Five minutes later, to everyone's surprise, they reappeared at the back of stadium, where they performed Us Against the World and the Speed of Sound.
They did, of course, include their own impromptu rendering of Singing in the Rain.
The concert ended with a stirring performance of Every Teardrop is a Waterfall.